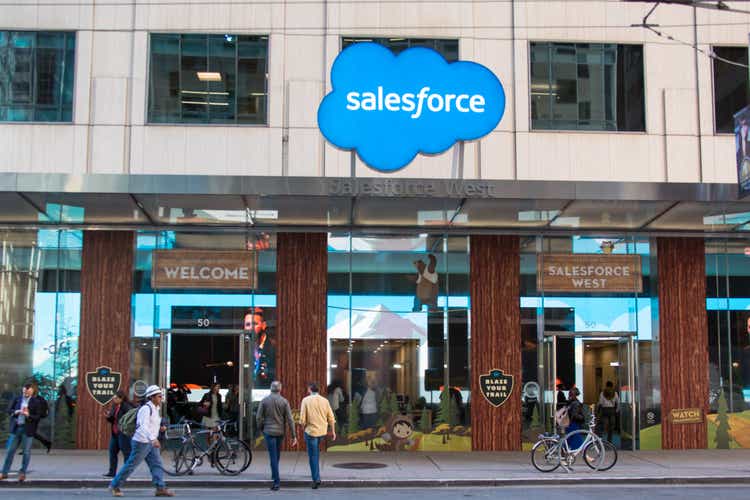 Salesforce Has Held Up Well Recently
Last April I first published on Salesforce, since then the stock declined 8%, holding up better than the S&P 500 (-12%). Salesforce remains a buy and in this article, I'll talk about some takeaways I have from the recent Q1 earnings 5 weeks ago and why I like the way Salesforce is going.
Takeaways From Q1 Earnings
If you want to read through or listen to the earnings call yourself, here is the link.
Revenues Grew 24%/26%
Q1 showed strong growth across the board for Salesforce, for the second time in a row every segment reported revenues over $1 billion.
Platform & other revenues were especially impressed with accelerated growth rates of 55% YoY.
This was the fourth consecutive quarter we see more than 40% growth in customers spending more than $100,000 with Slack annually.

Bret Taylor, Co-CEO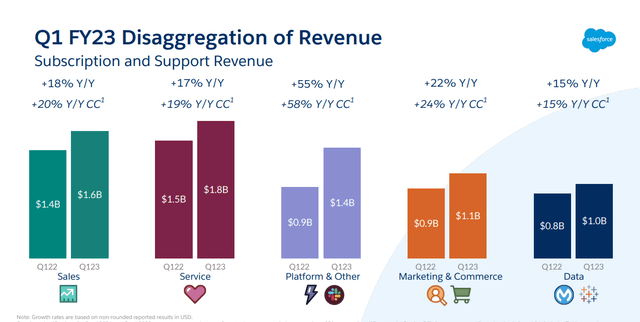 Profiting Off iOS Privacy Changes
A very interesting talking point in the call was the mention of the tailwinds from changes in privacy settings in mobile operating systems. The change that cost Meta (META) $10 billion is a tailwind for Salesforce Marketing Cloud.
This is the new cookie-less world, and it's made growing and measuring consumer engagement harder than ever before, and it's driving investment in our Customer Data Platform, which has become one of the fastest-growing products we've ever released.

Bret Taylor, Co-CEO
Are Buybacks A Possibility?
A very interesting question was from Brad Zelnick with Deutsche Bank, who asked if Salesforce is considering buybacks with $14 billion on the balance sheet ($6.9b cash/cash equivalents and $6.6b marketable securities) and the strong free cash flow generation of the business.
Right now, our overall focus is on strengthening our balance sheet to really capitalize on all of the opportunities in front of us.

Amy Weaver, Salesforce CFO
This is in line with the company's stance toward acquisitions right now. Even though valuations have pulled back in pretty much all the companies Salesforce could target for M&A, the primary goal is to digest the recent acquisitions, most notably the behemoth Slack ($27 billion), Tableau ($15 billion) and MuleSoft acquisition ($6.5 billion). The company stays opportunistic though, and I believe that we could see a smaller acquisition if the market continues to correct, maybe in the $3 billion ballpark.
Right now, large-scale M&A is just not part of our current plans. Obviously, we're opportunistic as all strategic tech companies are, and I never say never.

Amy Weaver, Salesforce CFO
In the graphic below, we can see the balance sheet of Salesforce: Total debt continued to rise with every major acquisition since Salesforce often buys with stock and debt, most notably $8 billion in debt taken on to fund the Slack acquisition. Salesforce paid $260 million in interest expenses in the last 12 months, which indicates an effective interest rate of 1.8%. That is a good rate that I'd not worry about too much, considering that the company produced $5.7 billion of free cash flow in the same time period. At a current free cash flow yield of 3.25%, buying back shares over paying back this debt would be beneficial in my opinion. A net debt/EBITDA of 0.2 times is also very healthy, even though that does mainly come from the large cash pile the company has on the balance sheet.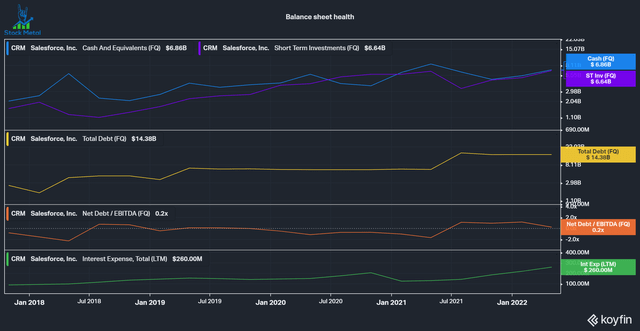 Marc Benioff Is Optimistic About The Macro
Marc Benioff loves to tell stories during the calls and this time he was especially optimistic about the macro environment of the customers he's talking to, while every report about the macro environment is negative. Marc sees great interest from his clients in growing their digital transformation further.
And very impressed with how they're investing and excited about expanding and going into new areas and looking at a number of our new products. They've been with us for quite a long time. And all of the customers that I met with were growing.

It was just an exciting moment. And then we went off to New York, same thing, same story. Everyone is very motivated. These are customers without a lot of debt on their balance sheet. They have flexibility, they're nimble.

Marc Benioff, CEO and Founder
This was reinforced by CFO Amy Weaver:
One of the things I really heard was a focus on efficiency. And companies that are looking for partnerships and looking for companies like Salesforce that can help them both grow and become more efficient as they do it, so it was an incredible week and a great opportunity.
Focus On Margin Improvement
In my last article, I talked about the option for Salesforce to focus on margin improvement, with the big levers for optimization being hiring speed, S&M and Stock-based compensation. In the call, Amy talked about a company-wide initiative to encourage leaders to focus on the important stuff and to prioritize investments better. Salesforce has been on an incredible hiring spree over the last few years, growing 30% YoY again in Q1. Going forward, hiring will be more selective and will help balance costs. In my opinion, Salesforce built enough over the last years, and now is the time to optimize.
We've asked each leader to step up to really look across their business and strategically prioritize their investments. And this is really to make sure that we're getting the highest return for every dollar that we invest. You asked about hiring, again, as a result, we're going to continue to hire, we are hiring. But we're doing it in a much more measured pace, and we're focusing the majority of our new hires on roles that will support customer success and the execution of our top priorities. This focus on margin, this is really over the long term.

Amy Weaver, CFO
Valuation
In my last article, I introduced my simple valuation model where I assume that CRM will be able to curb spending on R&D, S&M, and SBC. I feel encouraged in my model, hearing Amy talk about their plans for margin improvement going forward. I find Salesforce to be attractively valued given its sticky business model and continued long growth trajectory (20% growth guided) and high margin potential in the future.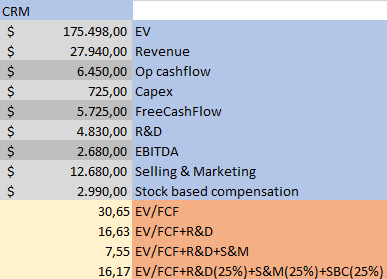 Conclusion
I consider Salesforce a buy at these levels and will continue to add to my position if we see further weakness. Salesforce currently accounts for over 3% of my portfolio, but doesn't come without risks. My investment case is based on a continual improvement of margin while continuing to grow revenues and its product offering.