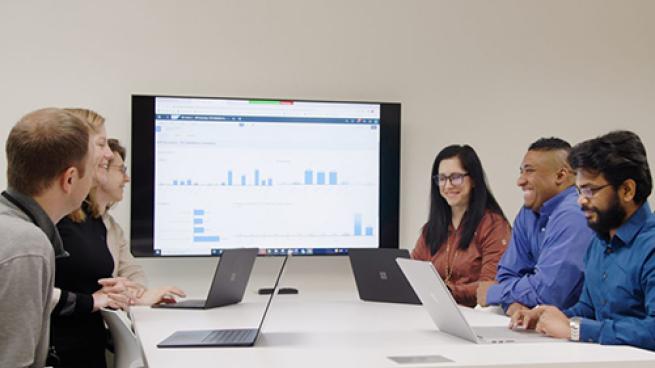 A variety of retailers are cloud-enabling different enterprise functions to promote efficiency and flexibility.
The cloud has existed as a mainstream enterprise technology for the past 15-20 years. It is no longer new or novel, and most people are familiar with its basic benefits, such as scalability and cost-efficiency. But this doesn't mean companies still aren't finding innovative ways to deploy cloud solutions. Here are three current examples.
H&M develops cloud-based backbone
Global fast-fashion retailer H&M Group is partnering with Google Cloud to leverage the platform's data analytics capabilities and global enterprise in an effort to enhance its customer experience and supply chain operations.
This cloud-based enterprise data backbone will include a core data platform, data product, and advanced artificial intelligence (AI) and machine learning (ML) capabilities. H&M also plans to establish of a new data mesh to make all types of data and events more accessible from multiple sources, including in-store, online, and third-party brands and suppliers.
As its enterprise cloud partnership with Google develops, the retailer hopes to optimize its internal supply chains. The company also intends to obtain the ability to deliver next-generation customer experiences across a variety of physical and data sales channels. In addition, H&M wants to enable further development of data science and AI capabilities throughout its global enterprise.
Wolverine transforms management of data and operations
Michigan-based vertical footwear/apparel retailer Wolverine Worldwide is adopting the Microsoft Azure Arc multi-cloud and on-premises management platform. Azure Arc allows data and apps to be securely shared among on-premises hardware, a cloud, or multiple clouds (multi-cloud). As a result, Wolverine will create a hybrid cloud enterprise environment.
As part of this architectural upgrade, Wolverine plans to increase customer personalization and engagement across its brand portfolio. The company also intends to ensure more stock availability and faster shipping, along with other enhancements.
With help from Azure Arc, Wolverine brands seek to more quickly test and deploy business solutions, while decision-makers and developers gain access to expanded and accelerated data analysis. In time, the company aims to offer product-specific insights and individual recommendations as buyers consider goods, enabling better-informed buying decisions tailored to individual tastes.
Concurrently, Wolverine Worldwide also is transitioning to the cloud-based RISE with SAP ERP platform, running on Azure and the Microsoft cloud. The company will have access to a portfolio of SAP cloud-based services, solutions and tools through a single license.
Bastard Burgers sees legitimate growth potential
Bastard Burgers is supporting growth in Europe and the U.S. with next-generation POS capabilities. Based in Sweden, the fast-food hamburger chain is pursuing a global expansion strategy. Currently, it operates 67 restaurants across Sweden, Norway, and most recently at The Bronx Brewery Taproom in New York City. Future growth plans include opening stores across Finland this fall, followed by new locations in Central Europe.
To support its rapid growth and expand its digital ordering capabilities, Bastard Burgers has chosen the Oracle Micros Simphony Cloud POS platform. The retailer based this selection on the Micros solution's ability to handle multi-currency, language, and tax requirements. In addition, Bastard Burgers plans to leverage Micros' application programming interfaces (APIs) and Oracle Partner Network (OPN) integration partners to expand its sales channels.
For example, Bastard Burgers will utilize digital ordering platform Future Ordering, an OPN member, in fall 2022 to offer delivery and pickup to its customers. By integrating Simphony and Future Ordering, Bastard Burgers intends to fully automate the flow of online ordering data to its POS system and on to the kitchen to prepare and deliver meals.