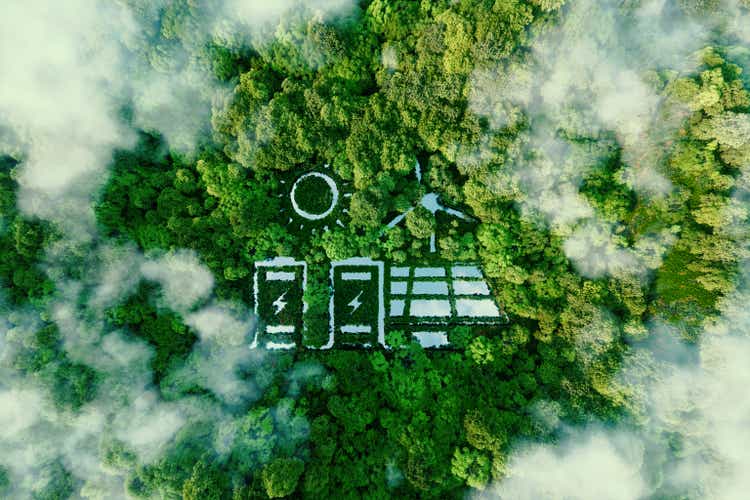 Investment Thesis
Plug Power Inc. (NASDAQ:PLUG) stock surged significantly on recent tailwinds related to the Russia-Ukraine conflict. However, PLUG stock has been battered since its highs in early 2021. The previous boost on the hype from the Biden Administration's infrastructure plan was quickly digested from November through late February.
However, the Russian invasion of Ukraine has compelled its Western European neighbors to commit to decoupling from their dependence on Russian energy. Consequently, renewable and alternative energy players have also seen their stocks recover remarkably.
We also took the opportunity to cash out of PLUG stock finally. We have been deliberating about our speculative position in PLUG stock. We decided that PLUG stock was too speculative for our portfolio. Moreover, despite its aggressive revenue growth estimates, we aren't sure when the company will turn FCF profitable.
As such, we have rotated our position in PLUG to other growth stocks, given the recent tech bear market.
Why Did PLUG Stock Surge Recently?
Russia is the world's second-largest crude exporter, as it accounted for 4.6M barrels a day before the conflict, behind Saudi Arabia's 6.7M barrels. Furthermore, Russia exported 197.7B cubic meters of natural gas in 2020, with Europe as one of its most significant customers.
However, energy has been weaponized in the recent geopolitical tensions between the West and Russia. As a result, Europe has communicated its long-term commitment to wean itself off Russian energy by slashing Russian gas imports by two-thirds.
However, its ability to decouple from Russian energy is also predicated on the supply sustainability of US LNG exports. Furthermore, the Oxford Institute for Energy Studies highlighted that "LNG is no quick fix." It added (edited): "Current US projects could yield an export boom, starting in 2026. Then they would need 15 years of sales contracts to pay off. Europe might not need the gas by then if it hits its renewable energy targets."
Columbia University's Center for Global Energy Policy also accentuated: "There is no replacement for the Russian gas that Europe imports. The implications for European industry would be disastrous."
Therefore, renewable and alternative energy plays have received a massive boost from Europe's need to wean off Russian energy.
Why Did We Get Out?
Notably, these are long-term projects that require significant CapEx investments. Furthermore, it's questionable whether these projects would eventually be FCF profitable. Then, there's the issue of competition. PLUG believes that it's one of the leading players in green hydrogen in the US.
But, German energy behemoth E.ON SE (OTCPK:EONGY) also committed itself as a critical supplier to Europe's needs. Bloomberg reported (edited):
German energy giant E.ON SE and a unit of Australia-based Fortescue Metals Group Ltd will work together to deliver 5M metric tons of green hydrogen a year by 2030. The fuel will be produced using renewable power in Australia and will be distributed by E.ON. 5M tons of hydrogen would be equal to about a third of the energy Germany imports from Russia.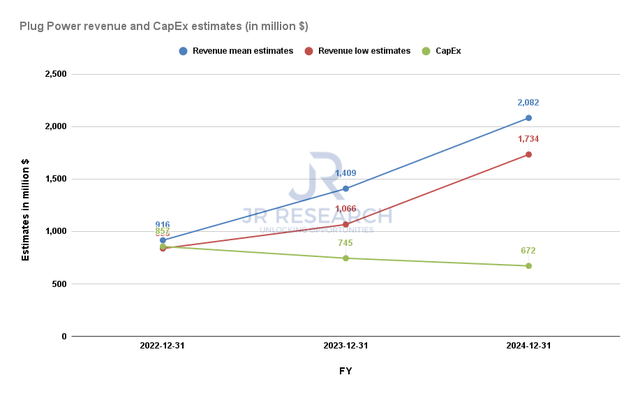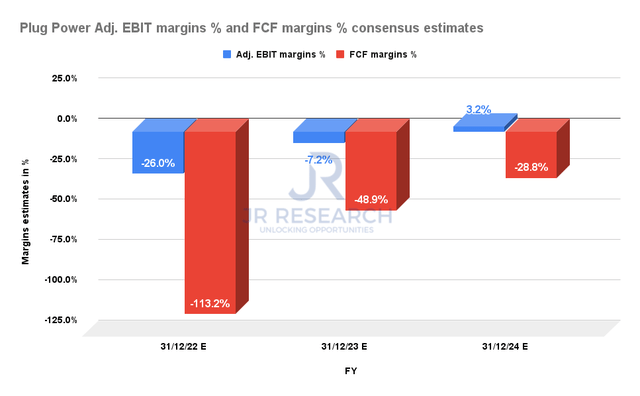 Furthermore, keen investors should recall that Plug Power is still unprofitable. However, the company guided to revenue of $3B and an adjusted operating margin of 17% by 2025. Consensus estimates suggest that PLUG could reach adjusted EBIT profitability by FY24. Given the massive CapEx buildout and revenue growth estimates, as seen above, the Street expects Plug Power to have significant operating leverage as it scales.
However, such aggressive estimates would also require Plug Power to execute impeccably over the next four years. Management considers a $10T global opportunity with 30-40% penetration. Therefore, investors should expect Plug Power to ramp its sales and production capacity tremendously. Thus, while it raises excitement for us as growth investors, we were also concerned with its free cash flow (FCF) margins.
Plug Power is still expected to burn significant cash over the next three years, given the significantly negative FCF margins estimates. Nevertheless, it has a robust balance sheet of $3.87B in cash and $504.5M in long-term debt. Therefore, we can surmise that it should not require additional financing in the near term.
However, we believe significant execution risks are involved, given the massive CapEx buildout and revenue estimates. Furthermore, there's also a marked difference between the average and most conservative revenue estimates. For instance, the average revenue estimates for FY23 point to $1.41B. However, the most conservative estimates suggest revenue of $1.07B. The marked difference alluded to a significant level of execution risks that investors need to consider carefully.
Is PLUG Stock A Buy, Sell, Or Hold?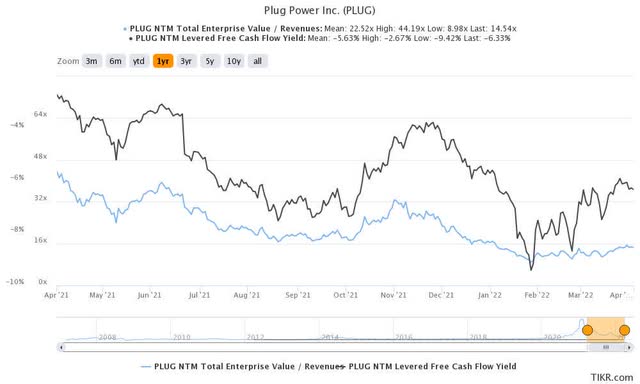 PLUG stock is a Hold. It last traded at an NTM revenue multiple of 14.5x and an NTM FCF yield of -6.33%. There are plenty of opportunities in the SaaS, EV, and semiconductor space with much more reasonable valuations and positive FCF.
As such, we decided to sell into the rally and move on from PLUG, which was a profitable position for us.