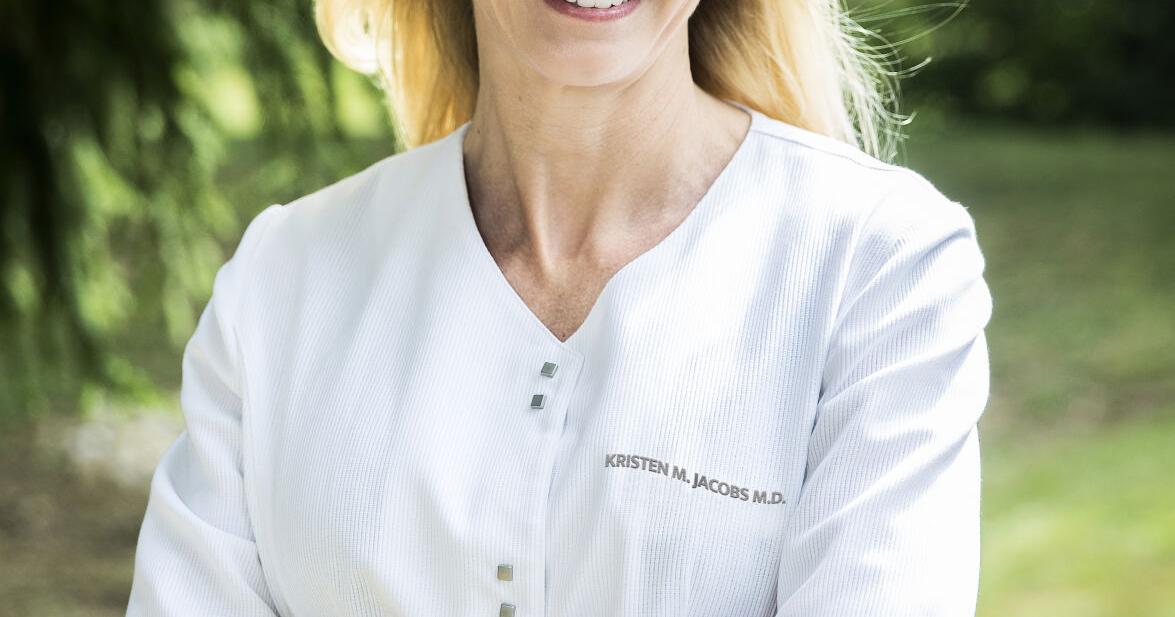 Glen Carbon, Ill. (August 16, 2022) Summer months are a time when people most commonly start to see sun damage on their skin. Kristen M. Jacobs, MD, aesthetic physician, best-selling author, and owner of Ooh La La Spa, Anti-Aging & Wellness wants people to know that although the sun can have harmful long-lasting effects, there are ways to help reverse sun damage.
"Even when we take extra precautions to protect our skin, it can be impossible to avoid sun damage," said Dr. Jacobs. "Ultraviolet rays from the sun can trigger your skin cells to produce more melanin which can lead to dark sunspots. There are various products and treatments out there that can help reduce the appearance of these spots."
Sun damage can appear in many different forms. Brown spots, uneven skin tone and melasma are all signs of sun damage. Melasma is a condition where brown and brownish-gray spots show up on the skin, most often on the face. Premature wrinkling and sun damage can also be known as photo-aging, which can result in coarse, dry skin, freckling, skin discoloration, leathery skin and deep wrinkles.
"Chemical peels and micro-needling treatments can help with the appearance of sunspots and actually reverse some of that damage from the UV rays," Dr. Jacobs said. "Sun damage can influence a person's confidence and we want people to feel the best versions of themselves with healthy, beautiful skin after they come to Ooh La La Spa, Anti-Aging & Wellness."
Prevention is key to taking care of your skin. Practicing safe sun exposure habits such as wearing the right sunscreen, wearing protective clothing, and staying out of the sun as much as possible can help prevent skin cancer and other skin-related conditions later in life.
About Ooh La La Spa, Anti-Aging & Wellness:
Headquartered in Glen Carbon, Ill., Ooh La La Spa, Anti-Aging & Wellness is the number one medical spa in the St. Louis Metro East and the top provider of injectables in the metropolitan area. Kristen M. Jacobs, M.D., International Best-Selling Author of "Live Life Beautifully (With a Little Help)" Robert L. Wise, D.C. and their team offer an extensive line of state-of-the-art aesthetic medicine procedures based on the SCIN philosophy – skincare, collagen stimulation, injectables, and nutrition – as well as body and wellness services. Dr. Jacobs is also an Allergan Medical Institute faculty member, trainer and speaker. She is one of only a handful of select, certified trainers for Allergan (a world leader in medical aesthetics). To learn more, visit www.kristenjacobs.com.
Cutline: Ooh La La Spa Anti-Aging and Wellness Educates the Public on How to Reverse Sun Damage.
#lee-rev-content { margin:0 -5px; } #lee-rev-content h3 { font-family: inherit!important; font-weight: 700!important; border-left: 8px solid var(–lee-blox-link-color); text-indent: 7px; font-size: 24px!important; line-height: 24px; } #lee-rev-content .rc-provider { font-family: inherit!important; } #lee-rev-content h4 { line-height: 24px!important; font-family: "serif-ds",Times,"Times New Roman",serif!important; margin-top: 10px!important; } @media (max-width: 991px) { #lee-rev-content h3 { font-size: 18px!important; line-height: 18px; } } #pu-email-form-business-email-article { clear: both; background-color: #fff; color: #222; background-position: bottom; background-repeat: no-repeat; padding: 15px 0 20px; margin-bottom: 40px; border-top: 4px solid rgba(0,0,0,.8); border-bottom: 1px solid rgba(0,0,0,.2); display: none; } #pu-email-form-business-email-article, #pu-email-form-business-email-article p { font-family: -apple-system, BlinkMacSystemFont, "Segoe UI", Helvetica, Arial, sans-serif, "Apple Color Emoji", "Segoe UI Emoji", "Segoe UI Symbol"; } #pu-email-form-business-email-article h1 { font-size: 24px; margin: 15px 0 5px 0; font-family: "serif-ds", Times, "Times New Roman", serif; } #pu-email-form-business-email-article .lead { margin-bottom: 5px; } #pu-email-form-business-email-article .email-desc { font-size: 16px; line-height: 20px; margin-bottom: 5px; opacity: 0.7; } #pu-email-form-business-email-article form { padding: 10px 30px 5px 30px; } #pu-email-form-business-email-article .disclaimer { opacity: 0.5; margin-bottom: 0; line-height: 100%; } #pu-email-form-business-email-article .disclaimer a { color: #222; text-decoration: underline; } #pu-email-form-business-email-article .email-hammer { border-bottom: 3px solid #222; opacity: .5; display: inline-block; padding: 0 10px 5px 10px; margin-bottom: -5px; font-size: 16px; } @media (max-width: 991px) { #pu-email-form-business-email-article form { padding: 10px 0 5px 0; } }