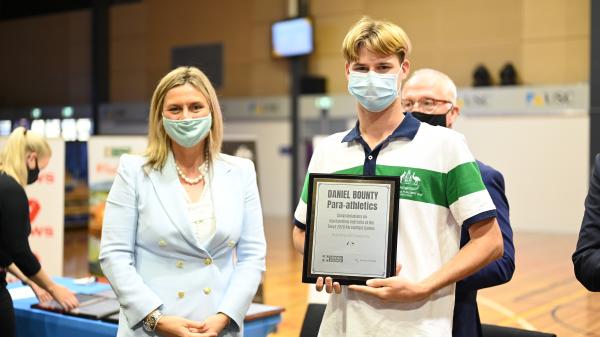 By Abbey Cannan
Olympians and Paralympians from the Sunshine Coast who competed at the Tokyo Games were congratulated at a massive civic reception last Thursday.
The welcome home event was organised by Federal Member for Fairfax, Ted O'Brien, in conjunction with Noosa Council, Sunshine Coast Council and the University of the Sunshine Coast.
Special Envoy for the 2032 Olympic Games Mr O'Brien said that it was important for residents to have the opportunity to show appreciation for local Olympians and Paralympians.
"The Tokyo Games were one of our strongest performances ever," he said.
"There's so much for locals to be proud of with our local Paralympians snagging 14 medals – almost 18 per cent of Australia's total medal count.
"This followed a stellar performance by Olympians such as Sunshine Coast local, now world-famous Kaylee McKeown, who came home with four medals, including three gold.
"Paralympic swimmer, Benjamin Hance, wasn't far behind, coming home with a medal of each colour, and Lakeisha 'Lucky' Patterson secured gold in the women's 400m freestyle."
Noosa Mayor Clare Stewart said Noosa Council was so proud of the Olympians and Paralympians.
"For four weeks we got to see what superhuman really meant," Mayor Stewart said.
"We got to see what tenacity and resilience and hard work can accomplish and it's an absolute privilege to welcome those athletes home today.
"Noosa's Kareena was the first Australian athlete who qualified for the Olympic Games.
"We're so proud of Kareena and the Noosa Aquatic Centre where she trains. She is a wonderful ambassador for the Noosa Shire and the region."
Noosa Deputy Mayor, Cr Frank Wilkie said the Sunshine Coast Welcome Home Celebration was particularly special as it was one of Australia's first opportunities to congratulate returning Olympians and Paralympians.
"We're all so incredibly proud of them. With the added challenge of training and competing during a global pandemic, our local Olympians and Paralympians have had to work much harder, not only physically, but mentally, to achieve their Olympic dreams," Mr Wilkie said.
"They're an inspiration, and role models to all of our local young Olympic hopefuls keen to follow in their footsteps."
USC Vice-Chancellor and President Professor Helen Bartlett said the University was proud to host this important event at its sports precinct where many of the region's Olympic and Paralympic athletes had trained for the Tokyo Games.
Professor Bartlett said USC's strong focus on high-performance sport had played an important role in Australia's success at the Games.
"I'd like to congratulate the athletes on their amazing results in Tokyo, especially our current students, graduates and members of the USC-based high-performance swimming and cycling teams," she said.
"And I would also like to commend the work of our Olympic and Paralympic officials that included high-profile USC academic experts in sport science, coaching, nutrition and psychology."
Thirty-seven athletes and officials from the 2020 Tokyo Olympic and Paralympics Games call the Sunshine Coast home, as do dozens more Olympians and Paralympians from previous Olympics.