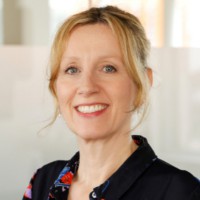 New SVP, promotions at All3Media International
Distributor All3Media International has named Elin Thomas SVP for French-speaking Europe, and has promoted EMEA sales managers Peta Sykes, Ben Packwood and Jonathan Hughes to VPs for their respective regions.
Thomas (pictured) was previously at NENT Studios UK (formerly known as DRG), and has been consulting on the integration of the company's titles since All3Media's acquisition of the NENT Studios UK catalog in June 2021. She will join All3Media International in a permanent SVP role, taking over sales for French-speaking Europe from Graham Spencer, SVP EMEA, who is retiring this month. Reporting to Stephen Driscoll, EVP EMEA, and based out of the company's London office, Thomas will also have additional responsibilities for pan-territory format sales in the EMEA region.
Thomas brings extensive experience in TV and format sales across EMEA to the position. Having begun her distribution career at BBC Worldwide, she held several positions in the region before moving up to the role of director, global formats. She joined Passion Distribution as director of global sales in 2014 before heading to NENT Studios UK as their EVP of sales in 2017.
In addition to the Thomas hire, All3Media International is promoting three sales managers on the EMEA team to the position of VP. Peta Sykes is now VP for Scandinavia; Ben Packwood is now VP for Eastern & Central Europe; and Jonathan Hughes is now VP for Germany, Benelux, Austria & Switzerland.
Said Stephen Driscoll, EVP EMEA at All3Media International: "We would all like to express our sincere thanks to Graham [Spencer], who has been instrumental in building the flourishing business we now see across the EMEA region. With so many exciting deals in the pipeline in 2022, we are delighted to pass the baton on to Elin — her wealth of EMEA sales experience will be invaluable as we continue to build on the potential of our content in this vibrant region. We are also very pleased to confirm Peta, Ben and Jonathan's promotions, which are well-deserved following their own important contributions to our EMEA success."
Red Arrow taps Keshet vet Rose Hughes for VP of sales role
Global distributor Red Arrow Studios International has hired media and sales executive Rose Hughes as VP of sales for the UK, U.S., Canada, Australia and New Zealand.
Based in London, Hughes will head up Red Arrow's sales activities in the English-speaking territories and will also work closely with the company's unscripted and scripted acquisitions teams. She took up the role on July 4, and reports to Red Arrow Studios International president & managing director Tim Gerhartz.
Hughes joins Red Arrow following a six-year tenure at Keshet International, where she most recently held the position of VP sales global/pan-regional, North America, UK, Nordics. In that role, she was responsible for sales of formats, scripted and unscripted finished tape and pre-buy/coproduction opportunities across North America, the UK, the Nordics, and global and regional SVODs and channels, and also oversaw and advised colleagues on sales in France, Germany and Benelux. She started her career at documentary and news distributor Journeyman Pictures, and has also held positions at DRG and BBC Worldwide.
"Rose has a remarkable track record across formats and tape in both the scripted and unscripted space, spanning development, coproductions, pre-buys and international distribution. This wide-ranging expertise will make her a vital part of our sales team," said Gerhartz in a release.
Armoza Formats names new head of sales
Israel-based content creator and distributor Armoza Formats, part of ITV Studios, has brought on Adva Avichzer as head of sales.
Reporting to COO Amos Neumann, Avichzer will be responsible for spearheading the company's distribution arm, which is known for turning formats into global brands.
Avichzer brings to Armoza extensive experience in the TV formats industry. She was previously head of distribution at Gil Formats, and senior director of international, coproductions, and business development at Endemol Shine Israel. She also worked at E! Entertainment, and had both executive and creative credits on shows in Israel, including The Voice, One Born Every Minute and Four Weddings. She has also held roles in content development, editing and TV production.
"We are pleased to welcome Adva to our incredible team at Armoza Formats," said Neumann in a release. "Her managerial and professional experience in the business will be an important contribution to the company's performance in this constantly evolving and shifting television market."