Microsoft Bolsters Azure's Telecom Services with Partnership Agreements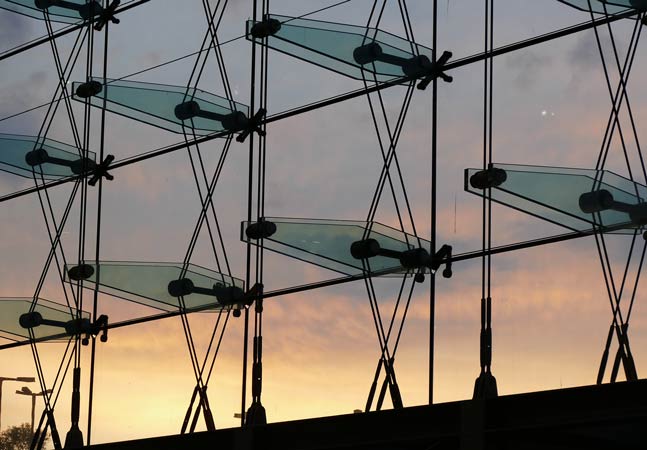 Azure for Operators is celebrating two years. And Microsoft this week is marking the occasion by detailing a list of new partnerships and efforts for the telecom service.
The service mainly provides software and services for 5G mobile carriers, using software-defined networking technologies, and provides network scale and support via Azure cloud services.
Microsoft said the service has rapidly evolved since Microsoft's initial launch.
New Azure for Operators Products
The new Azure for Operators efforts, announced this week, included:
Azure Operator Distributed Services, which combines technologies from Microsoft's acquisition of the AT&T Network Cloud with Azure services for "security, monitoring, analytics, AI, machine learning" and more. It's a new offering for 5G and voice network operators.
Azure Operator 5G Core at private preview, an option of Azure Operator Distributed Services for mobile networks that need to scale to "hundreds of millions of subscribers and devices." It's for operators, providing them with automation, life-cycle management, analytics and "network slicing" of services.
Azure Private 5G Core at public preview, which is an Azure Private Multi-Access Edge Compute offering for mobile operators of private 4G or 5G wireless networks, as well as system integrators, enabling scalability. It works with the Azure Stack Edge service and Azure Arc, Microsoft's cloud management solution.
Azure Public Multi-Access Edge Compute, a new service based on existing Azure Edge Zones that's designed to enhance application performance at the edge of a mobile operator's network. It can be used to support Internet of Things devices and smartphones.
These new Azure for Operators additions are illustrated in the following Microsoft graphic: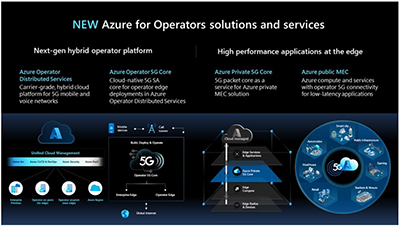 Azure for Operators Partnerships
Plenty of partners are involved with Microsoft's Azure for Operators software and services.
Microsoft is using technologies acquired from its 2021 acquisition of the AT&T Network Cloud software, combining it with Azure services for its new Azure Operator Distributed Services, which is offered to other telecom service providers. However, Microsoft originally designed Azure Operator Distributed Services for AT&T. Here's how the announcement explained it:
Azure Operator Distributed Services is designed to support the AT&T mobile core network that today spans more than 60 containerized network functions (CNFs) and virtual network functions (VNFs) from 15 different vendors, which currently are deployed and running on the AT&T Network Cloud platform.
AT&T currently is collaborating with Microsoft, and is planning to start its initial testing of Azure Operator Distributed services sometime "later this year." The effort is billed as bringing hybrid network support for hosted network functions, per AT&T's description.
AT&T also earlier announced that its new Private 5G Edge service, in partnership with Microsoft, is currently under development. AT&T's Private 5G Edge Service will be targeted at vertical markets, supporting things like robotics in manufacturing, video health sensors in medical clinics and sales support at car dealerships.
Azure Public Multi-Access Edge Compute is currently being tried by telcos AT&T and Singtel. Microsoft also has independent software involvements with Check Point, Couchbase, Game Cloud, Summit Tech and VMware.
Ericsson is currently working with Microsoft on Azure Operator for Distributed
Services for "enterprise 5G use cases in conjunction with leading operators," according to an Ericsson description. One of Ericsson's clients is Telstra, which collaborated on a "5G-enabled compute solution for enterprises" using the Azure Stack Edge service.
Nokia is offering Microsoft's Azure IoT Edge services to its 5G customers. This offering incorporates Nokia's Cloud RAN (Radio Access Network) services and its "new SaaS-based NetGuard Cybersecurity Dome" technology.
Microsoft already has a long list of Azure Private Multi-Access Edge Compute partners, including: