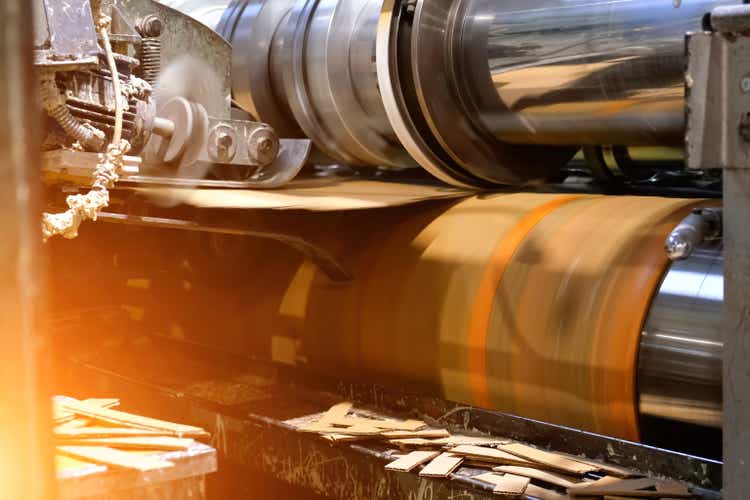 Wells Fargo updated its assessments of packaging and container companies ahead of a busy earnings season, naming its top pick and reducing its outlook elsewhere.
Overall, the bank indicated optimism on Q2 results broadly, but noted the escalation of foreign exchange and inflation impacts as issues constraining results.
"Broadly speaking, we believe Q2 showed still-strong demand for at-home food/beverage related packaging," Equity analyst Gabe Hajde explained. "Looking forward, high frequency data suggests consumers have remained generally resilient, but we are inclined to think consumption patterns may change given a slowing economy, a looming deadline for the 26+ month holiday on student loan repayments, and acute inflation."
Amid these contrasting dynamics, International Paper (NYSE:IP) and Graphic Packaging Holding Company (NYSE:GPK) were rated at the more pessimistic and optimistic ends of assessments, respectively.
For the former, current export dynamics mirroring the close of recent containerboard pricing cycles was cited as a signal that domestic containerboard prices are breaking down. As such a downgrade of International Paper (IP) from "Overweight" to "Equal Weight" is appropriate in Hajde's view.
"Simply put, our bias has shifted towards the downside for pricing, even with a potential pickup in exports on account of energy instability in Europe (particularly as the European economy navigates a potential impending recession as well)," Hajde explained. "Given our bias for lower cboard pricing, a lack of confidence in operational execution, and an overhang from Ilim (Russian 50:50 JV) we believe it will be challenging for the stock to work over the 6-12 months."
Alongside the downgrade to a Hold-equivalent, Hajde reduced his price target to $47 from a prior $58.
By contrast, estimates for Graphic Packaging (GPK) were increased due to better pricing dynamics in paperboard and strong execution ability shown by management amid an uncertain environment.
"Given the non-durable nature of GPK's primary end markets, which should render volumes resilient in an economic slowing, we see the company as favorably positioned heading into [the second half of 2022]," Hajde wrote to clients. While we acknowledge an elevated leverage position, we believe GPK maintains visibility to de-lever to ~3.0x by the end of 2023 given both EBITDA growth and strong FCF generation."
Given this rosier outlook, he raised his price target by $1, reflecting modest hikes to both second quarter and yearly EPS estimates. Hajde also reiterated a Buy-equivalent rating on the stock alongside a "favored pick" status heading into the earnings report anticipated for July 26.