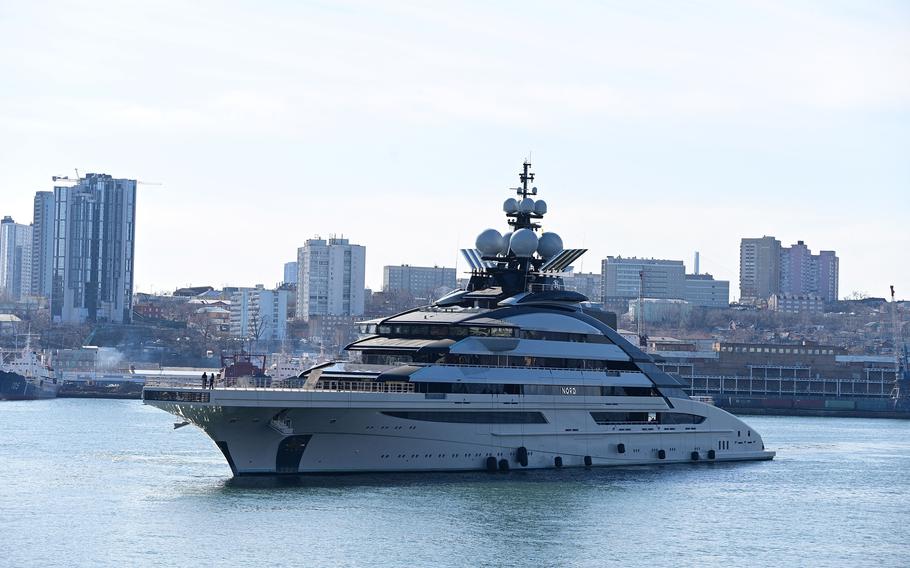 WASHINGTON (Tribune News Service) — Since Russia invaded Ukraine on Feb. 24, the United States and its allies have enacted the harshest sanctions ever imposed on a major power, targeting Moscow's largest financial institutions as well as foreign reserves, its primary exports, its richest citizens and top government officials.
What makes these sanctions so effective is the continued dominance of the U.S. dollar in global financial transactions along with Washington's ability to coordinate them with an alliance of nations that, together with the United States, make up half the global economy.
And the sanctions keep coming. The United States and Britain have announced new, coordinated sanctions on a near-weekly basis, and the European Union is currently working toward a ban on all imports of Russian oil.
"The simple way of thinking about it is, Russia sells commodities — half of which are energy — and then they take those revenues to buy manufactured goods or high-tech goods," said Gerard DiPippo, a senior fellow with the Economics Program at the Center for Strategic and International Studies. "We're theoretically trying to cut them off on both sides. It's harder to cut them off at the revenue source."
Put simply, sanctions on Russia fall into four buckets. The United States and its allies keep filling each of them with new tools.
Financial sanctions
The hardest-hitting sanctions so far have targeted Russia's most important financial institutions.
These sanctions are run out of the Office of Foreign Assets Control, or OFAC, a financial intelligence and enforcement agency based at the U.S. Treasury Department, and restrict certain or all transactions by Americans with designated entities.
The most significant designation so far was the Central Bank of Russia. In a coordinated effort, the United States, European Union and Great Britain froze virtually all of Russia's foreign exchange reserves — essentially, its safety deposit box held in reserve for a moment of crisis — affecting all of their holdings except for Chinese currency and gold.
The United States, European Union, Britain and Canada have also compelled the ubiquitous SWIFT financial messaging system to cut off access to several major state-owned Russian banks, which effectively prevents them from conducting most financial transactions.
Import bans
Russia is, first and foremost, a commodity-based economy, relying on its sale of various energy products — oil, gas and coal — to fund the government and purchase foreign goods.
The point of banning Russian energy imports is to try to starve Moscow of revenue. Critically, the most powerful financial sanctions that were first levied against Russia at the very beginning of the war included carve-outs that exempted the oil and gas industry.
The United States was quick to ban Russian oil imports. But with those imports amounting to less than 3% of daily U.S. consumption, this had a marginal impact on both Washington and Moscow.
Far more important will be whether the European Union can agree to ban imports of Russian oil and gas.
The bloc agreed to ban Russian coal last month and is currently debating a ban on oil. But it is most reliant of all on Russian gas, and has actually increased its imports since the invasion began, providing Moscow with much-needed revenue as the war grinds on.
Export controls
U.S. sanctions with a slower burn impact the sale of products and services to Russia, such as manufacturing parts and technologies, run out of the U.S. Commerce Department.
While export controls take longer to work, they can have a sustained impact on Russia's defense and civilian technology industries.
Washington has banned advanced the export of U.S. semiconductors, industrial engines and bulldozers, as well as parts required for the processing of nuclear and chemical materials.
It has also recently prohibited the sale of U.S. accounting and management consultant services to Russia.
Sanctions on individuals
Sanctions against Russian individuals may have the smallest overall impact. But they can be used as a political weapon to prevent some of the most influential Russian oligarchs and politicians from traveling internationally, sending their family members to foreign schools or accessing overseas assets.
For the first time, American and European law enforcement are hunting down Russian assets parked overseas, seizing yachts, real estate and accounts of sanctioned individuals and vowing to use some of the money to help fund Ukraine's armed resistance.
These sanctions mostly target Russian oligarchs, a class of extremely rich and often corrupt individuals who benefited from the collapse of state-owned enterprises after the fall of the Soviet Union and from a pay-to-play system set up by Russian President Vladimir Putin since he rose to power in 2000.
But these sanctions for the first time have also targeted Putin himself, whose wealth is inextricably tied to state entities and who has hidden billions in a matrix of accounts and assets nominally owned by others, including family members, girlfriends, business associates and confidantes.
The sanctions have also extended to members of Russia's parliament, the Duma, and more recently executives at Russian banks and firms.
"In theory, it hurts them enough where they beg Putin for mercy," DiPippo said.
——
©2022 McClatchy Washington Bureau.
Visit at mcclatchydc.com.
Distributed by Tribune Content Agency, LLC.