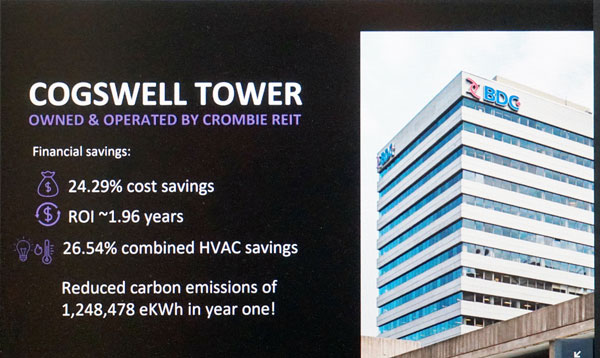 An artificial intelligence (AI) software program that optimizes control of building automation systems to improve energy efficiency has proved its value at a BOMA BEST and LEED Certified office tower in Halifax.
At the Cogswell Tower, a 14-storey concrete office building constructed in 1970 in Halifax, the AI software has resulted in energy savings of 26.5 per cent and a payback of less than two years, said Jennie King, director of sales and marketing of Ecopilot Canada, the company behind the novel software.
King, who said Ecopilot uses predictive analysis to harness thermal energy, "the free energy living in your building," to balance temperatures, pointed out the 200,000-square-foot office building reduced energy consumption by over one million kWh, which exceeds the owner's expectations for its entire campus of buildings.
King was speaking at a Sustainable Buildings Canada webinar recently about the company's add-on tool to existing building automation systems. Over a building's lifespan, energy accounts for 40 per cent of its cost, she said.
The company has installed its systems in about 1,200 buildings around the globe, including one for an Enbridge project.
"It is my understanding we were the first AI for Enbridge to pilot to determine opportunities for (energy) incentives."
Simply put, Ecopilot software calculates a building's balance point temperature, which is the outdoor temperature when interior heat gain is equal to heat loss. It then harnesses the building's thermal mass to result in a new supply temperature for the building.
The prime objective is to get most of a building to a median temperature, the average "comfort range" for all occupants, said Tobias Janes, Ecopilot's director of technical solutions.
"We realize some people will want it cooler, some will want it warmer."
At the Cogswell Tower, five of its sensors placed in areas identified with high temperatures allow for more cooling, but Janes told the webinar audience that the end goal is for building owners to minimize or eliminate those hot zones through additional insulation or other means.
Once Ecopilot is integrated with an existing building automation system, algorithms tabulate required adjustments every two minutes to temperatures in various spaces of the building, he said.
Interior temperature adjustments are also calculated based on weather data from every three hours and the building's capacity for thermal mass – storage of heat for use when temperatures drop.
Buildings made of stone or concrete can typically store thermal energy for longer periods than wood constructed structures, Janes pointed out.
He said Ecopilot sets off an alarm when an automated building system is using more energy than it should, allowing a technician to make adjustments.
"The hope with machine learning is that those alarms will be actioned even ahead of time. We'll get the alarm so we know something has happened but it will have already been fixed (via machine learning)."
Janes said if a building envelope is improved or reclad, Ecopilot technicians can make adjustments immediately and "fine tune it" monthly.
Ecopilot does an annual review of every building and makes adjustments where needed.
New installations take six to 12 weeks, according to the Ecopilot website.
King said its software is based on academic research on the harnessing of a building's thermal mass for energy reduction that dates back to the 1970s.
The technology did not exist then to effectively collect and process data to regulate buildings through thermal massing, she said, but Ecopilot developed algorithms 13 years ago to operate with any control system.