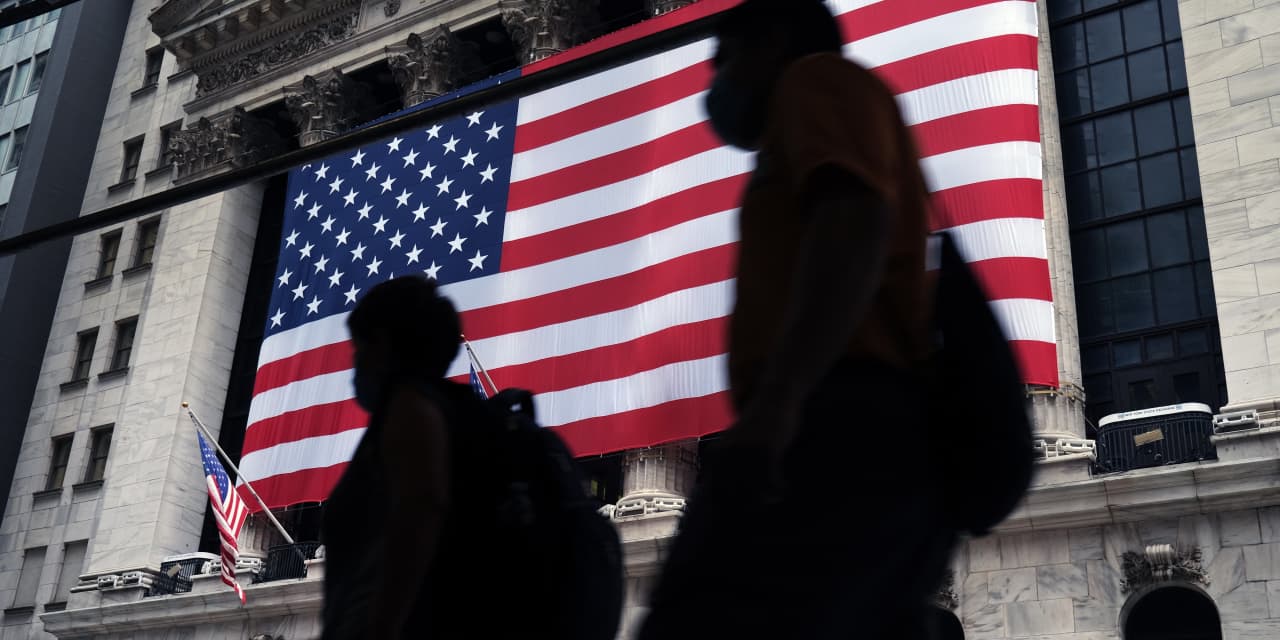 The Dow Jones Industrial Average, S&P 500 index and Nasdaq Composite on Monday advanced to back-to-back record finishes, starting the week the way the ended last week.
The record finish comes as investors await semiannual testimony from Federal Reserve Chairman Jerome Powell beginning Wednesday and a batch of economic reports throughout the week, the unofficial start of corporate quarterly results.
See: A crazy week for U.S. stocks came with a change in the market narrative—should investors believe it?
How did stock benchmarks end?
The Dow Jones Industrial Average DJIA, +0.36% rose 126.02 points, or 0.4%, to end at a record 34,996.18.
S&P 500 index SPX, +0.35% added 15.08 points, or 0.4%, closing at a record 4,384.63, after touching an intraday high at 4,386.68.
Nasdaq Composite Index COMP, +0.21% advanced 31.32 points, or 0.2%, finishing at a record 14,733.24, after establishing an intraday all-time high at 14,761.08.
On Friday, the Dow and S&P 500 finished the session at record highs, booking weekly gains of about 0.2% and 0.4%, respectively. The Nasdaq Composite finished the week at an all-time high with a 0.4% weekly gain.
What drove the market?
Major stock indexes rose to back-to-back closing records on Monday. The advance came ahead of a number of key events that could serve as catalysts later in the week, including the unofficial start of earnings season, which JPMorgan Chase & Co. JPM, +1.43% will kick off Tuesday, Powell's testimony on Capitol Hill, and fresh readings on inflation.
"People are thinking earnings are going to be strong and that may propel the market higher," said John Carey, director of Equity Income at Amundi U.S., adding that, for now, earnings have overshadowed uncertainty in Washington over planned infrastructure spending and potentially higher corporate taxes.
"Most people seem to be focused on the strength of the economy and the possibility of better earnings to support stock prices, which are definitely at high levels," Carey told MarketWatch.
Equity markets experienced a bout of turbulence last week before ending with a flourish, prompted partly by a drop in Treasury yields. Lower-bound rates for government debt had raised questions about the outlook for the U.S. economy in the recovery from the pandemic. The spread of the delta variant of COVID-19 has emerged as a concern, but so has the lofty valuations assigned to some segments of the market.
Questions about the Fed's monetary policy in the face of growing evidence of percolating inflation also have been blamed for some of the rocky trading.
Yields for the 10-year TMUBMUSD10Y, 1.361% edged up less than a basis point to 1.362% on Monday, while the 30-year Treasury yields TMUBMUSD30Y, 1.989% advanced by 1.2 basis points to 1.993%, near lows last seen in February.
Federal Reserve Bank of New York President John Williams told reporters Monday that conditions for scaling back its $120 billion a month bond-buying stimulus program have yet to be met.
Although inflation and peak growth concerns continue to percolate and worry U.S. households, some strategists said those concerns may be "over-hyped" for markets.
"Both the previous inflation concerns and the current peak growth concerns are likely over-extrapolated reflections of near-term trends that will not persist," Glenmede's team led by Jason Pride and Michael Reynolds, wrote in a Monday note.
"Markets may remain volatile as they attempt to adjust to the rapidly
evolving information flow during the ongoing recovery from the pandemic," but those factors "should not be disruptive of markets longer term."
Also read: Higher U.S. inflation isn't going away just yet. Here's why
Investors also have been keeping an eye on delta-driven COVID infections. The U.S. leads the world with a total of 33.85 million COVID cases and in deaths with 607,156. Dr. Anthony Fauci said on Monday that boosters weren't needed for now, but during a Sunday CNN inview said it was "horrifying" to see conservatives cheer for low vaccination rates, blaming "ideological rigidity" for hobbling the fight against the pandemic.
"We have long warned that vaccinations would be unlikely to trigger a smooth transition to normalcy," Ben May, Oxford Economics' director of global macro research wrote Monday.
No key data were on deck Monday ahead of a busy week in economic reports, starting with a reading of consumer prices on Tuesday.
Separately, investors also were focused on discussions among finance ministers from the G-20, who are trying to assess the potential implications of a proposal for a global minimum tax.
"We need sustainable sources of revenue that do not rely on further taxing workers' wages and exacerbating the economic disparities that we are all committed to reducing," U.S. Treasury Secretary Janet Yellen said in a speech to European Union countries about revamping the corporate tax code internationally.
"We need to put an end to corporations shifting capital income to low tax jurisdictions, and to accounting gimmicks that allow them to avoid paying their fair share," she said.
Which companies were in focus?
Broadcom Inc. AVGO, +1.16% shares rose 1.2% Monday after The Wall Street Journal reported the chip and software company was in talks to buy SAS Institute Inc. in a deal that could value the smashup at $15 billion to $20 billion.
Apple Inc. AAPL, -0.42% shares fell 0.4% a day after a Delaware federal judge dismissed a Blix Inc. suit, saying it failed to demonstrate how Apple harmed competition in the mobile operating system market.
L Brands Inc. LB, +4.16% said it's separating into two publicly traded businesses next month, with the Victoria's Secret & Co.'s underwear unit as "VSCO," while the Bath & BodyWorks Inc. arm under the "BBWI" ticker, starting Aug. 3.
GameStop Inc. GME, -1.04% shares shed 1% Monday after Ascendiant Capital Markets lifted its 12-month price target to $25 from $10, but still nowhere near the company's $189.25 closing price Monday.
Weber, the maker of outdoor grills, has filed to go public, nearly 50 years after it's iconic dome-like grill was made. Shares are set to trade on the New York Stock Exchange under the ticker WEBR.
Shares of Virgin Galactic Holdings Inc. SPCE skid 17.3% Monday, it's largest daily percent slump since March 16, 2020, a day after founder Richard Branson and five crewmates successfully flew into suborbital space on the company's VSS Unity rocket-powered spaceplane.
Couchbase Inc. BASE, a provider of a database for enterprise applications, set terms for its initial public offering on Monday, with plans to offer 7 million shares, priced at $20 to $23 each. The company has applied to list on Nasdaq, under the ticker 'BASE.'
Shares of Moderna Inc. MRNA rose 2.8% Monday after the company said it would supply 20 million doses of its COVID-19 vaccine to Argentina.
Shares of SolarWinds Corp. SWI were 1.8% lower Monday, even after the information technology infrastructure management software company provided an upbeat second-quarter revenue outlook.
How did other assets trade?