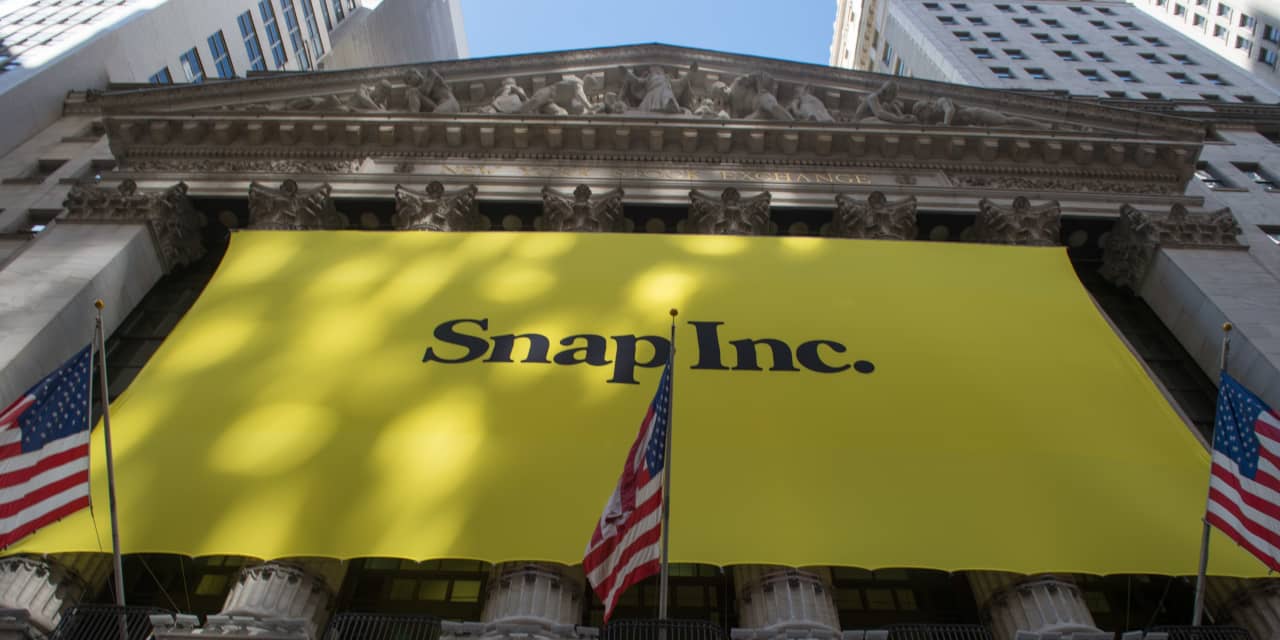 U.S. stocks closed mostly lower Tuesday, with the S&P 500 and Nasdaq Composite falling, after an earnings warning from Snapchat parent Snap triggered losses across the internet sector. The Dow Jones Industrial Average turned higher in late afternoon to end with a slight gain.
How did stocks trade?
The Dow Jones Industrial Average DJIA, +0.15% rose 48.38 points, or 0.2%, to close at 31,928.62, climbing for a third straight day.
The S&P 500 SPX, -0.81% fell 32.27 points, or 0.8%, to finish at 3,941.48, snapping two straight days of gains.
The Nasdaq Composite COMP, -2.35% slumped 270.83 points, or 2.4%, to end at 11,264.45, its lowest close since Nov. 3, 2020.
U.S. stocks finished higher on Monday, with the Dow surging 618.34 points, or 2%, to 31,880.24. The S&P 500 rose 1.9%, while the Nasdaq Composite gained 1.6%.
What drove the markets?
Major U.S. stock benchmarks ended mostly lower Tuesday, in a bruising session for technology-related stocks.
The sharp drop booked by the tech-heavy Nasdaq Composite added to big losses so far this year. The Nasdaq is down 28% in 2022, and has fallen nearly 30% below its record close of 16,057.44 on Nov. 19, 2021, according to Dow Jones Market Data.
"Tech is getting the worst of it" Tuesday after social-media company Snap Inc. delivered an earnings warning in a slowing economy, said Paul Nolte, portfolio manager at Kingsview Investment Management, by phone. Nolte said that he expects the U.S. may fall into a recession in six months to 18 months.
Opinion: Snap's warning of a weaker outlook sends ripples through tech stocks
Snap SNAP, -43.08% shares plummeted 43.1% Tuesday, following the company's warning late Monday that it would likely miss quarterly estimates as the economy has "deteriorated further and faster than anticipated."
"That's stopped all the 'worst is over' pundits in their tracks. It highlights how fleeting swings in sentiment are now and that investors are running at the first sign of trouble," said Jeffrey Halley, senior market analyst at OANDA, in a note to clients.
Other social-media companies that rely on advertising as a revenue stream were also battered, with Facebook parent Meta Platforms Inc. FB, -7.62% dropping 7.6%, Pinterest Inc. PINS, -23.64% tumbling 23.6%, Google parent Alphabet Inc. GOOG, -5.14% GOOGL, -4.95% sliding nearly 5% and Twitter Inc. TWTR, -5.55% falling more than 5%.
The technology sector has particularly suffered this year as shares of companies that shot to popularity during the pandemic have retrenched amid a shifting economy. Also extremely sensitive to interest rates, the sector has been unraveling in anticipation of the Federal Reserve raising rates to combat high inflation.
"The market continues to turn itself inside out and back to front as it tries to decide if it has priced all of the impending rate hikes, soft landing or recession, inflation or stagflation, China, Ukraine, U.S. summer driving season, supply chains, the list goes on. The result is a day-to-day chopfest, and it seems clear that volatility is the winner," said Halley.
Opinion: 'I feel like I am reliving the summer of 2008.' Strategist David Rosenberg sees bear market sinking the S&P 500 to 3,300
Meanwhile, sales of new homes in the U.S. slowed in April to an annual rate of 591,000, tumbling 16.6% from 709,000 in March, according to data released Tuesday by the U.S. Census Bureau and the U.S. Department of Housing and Urban Development. Economists polled by The Wall Street Journal had forecast sales to take place at a 750,000 annual rate.
The drop, which came amid high prices and soaring mortgage rates, marked the fourth straight month of declines in new home sales.
"The consumer backdrop is softening," said David Page, head of macroeconomic research at AXA Investment Managers, in a phone interview Tuesday. The housing market is "always one of the first areas to start to soften in the face of rising rates."
See: New home sales plunge as high prices and rising mortgage rates discourage buyers
In U.S. economic data, businesses expanded at the slowest pace in several months, reflecting the effects of high inflation, ongoing supply shortages and some softening in customer demand, according to the S&P flash U.S. purchasing managers indexes.
As for corporate earnings, shares of Abercrombie & Fitch Co. plunged Tuesday after the apparel retailer reported a first-quarter loss and provided a weak outlook.
Consumer discretionary was the second-hardest hit sector in the S&P 500 index on Tuesday, dropping 2.6%, according to FactSet data. The S&P 500's communication services sector, which includes tech giants Meta, Google parent Alphabet and Twitter, suffered the biggest losses with a 3.7% drop.
Read: Dow, S&P 500 head for worst start to a year since 1970 —- for tech it's the worst in history
Which companies were in focus?
How did other assets fare?
—-Barbara Kollmeyer contributed to this report.