Curacle said Friday that it has signed a 2.3 trillion won ($1.97 billion) licensing and collaboration agreement with Thea Open Innovation to develop oral therapy CUE06-RE for diabetic macular edema and wet age-related macular degeneration.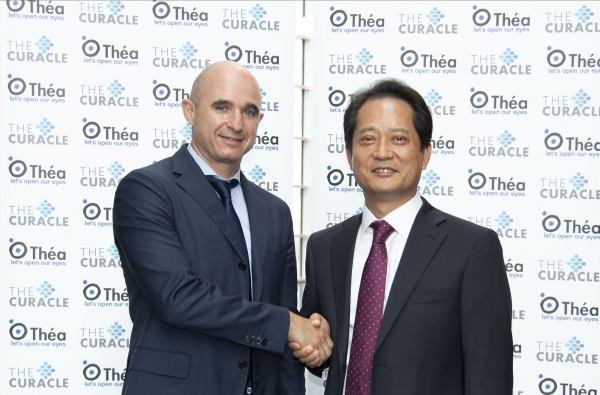 Under the accord, Thea Open Innovation, a sister company of Thea, Europe's top ophthalmic company with a 150-year-long history, will pay an upfront payment of 7 billion won and an additional 200 billion won in potential development and sales royalties.
Curacle will retain the marketing rights in Asian countries while Théa will have the marketing rights in all other countries outside Asia.
Thea Open Innovation also agreed to support Curacle to conduct phase 2 clinical study of CU06-RE once the phase 1 study ongoing in the U.S. completes. The two companies agreed that CUE06-RE has the potential to become the world's first orally administered drug for diabetic macular edema and wet age-related macular degeneration due to its high efficacy and convenience.
Diabetic macular edema is manifested as retinal thickening caused by the accumulation of intraretinal fluid. About 10 percent of diabetic patients develop the disease, and some severe patients end up losing their sight. The global market for diabetic macular edema therapy is about 4 trillion won, and the market continues to grow with the increasing number of diabetic patients over time.
Wet age-related macular degeneration occurs due to abnormal growth and swelling of choroidal blood vessels caused by aging and various causes. The disorder also causes severe visual impairment due to changes in the macula in the center of the retina. The market for wet age-related macular degeneration therapy reaches near 10 trillion won, and it is growing fast with the aging population.
"We are excited to partner with Curacle, a truly innovative biotechnology company with a game-changing technology platform," remarked Mr. Jean-Frederic Chibret, president of Thea. "Through our collaboration, we will provide a non-invasive and convenient treatment for patients."
Thea is Europe's leading ophthalmic drug developer and manufacturer located in France, and it has more than 30 subsidiaries worldwide.
Curacle CEO Ryu Jae-hyeon said, "Through this strategic alliance with a leading ophthalmic company, we can speed up the development of CU06-RE as the world's first oral treatment. We wish to deliver our novel therapy sooner to patients with diabetic macular edema and wet age-related macular degeneration who are suffering without a suitable treatment around the world."