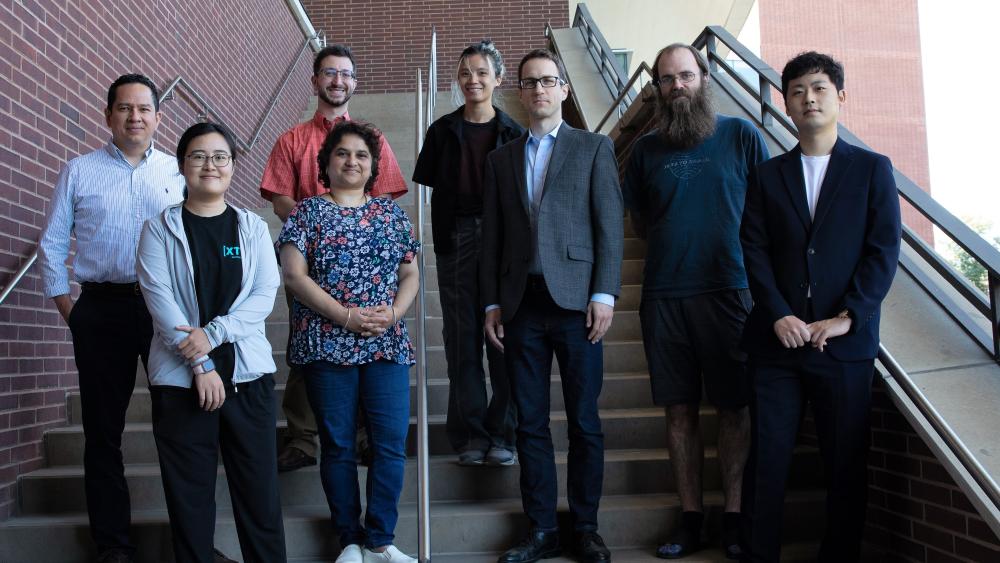 UNIVERSITY PARK, Pa. — Nine new full-time faculty members have joined the Penn State College of Information Sciences and Technology (IST) this year, enhancing the college's academic programs and strengthening its research portfolio.
"The diverse backgrounds, teaching methods and research topics IST's incoming faculty bring will enhance the cutting-edge, interdisciplinary and collaborative expertise and education that serves as the college's foundation," said Andrew Sears, dean of the College of IST. "Their work will significantly contribute to our efforts to develop students and scholars who can address the most pressing challenges that exist at the intersection of information, technology and society."
New faculty members joining the College of IST include:
Jie Cai, assistant research professor, comes to IST after earning a doctorate in information systems and human-centered computing from the New Jersey Institute of Technology. His primary research interests focus on phenomena in novel and interactive online communities in human-computer interaction and computer supported cooperative work, such as gaming, shopping and content moderation. He also has a broad interest in digital technology, including teleworking and social music. Cai holds a master's degree in marketing research from Hofstra University and dual bachelor's degrees in marketing and organizational leadership from Shenyang Normal University and Fort Hays State University.
Jonathan Dodge, assistant professor, recently earned his doctorate from Oregon State University. His research approaches explainable artificial intelligence problems from both the human perspective and the system side. Dodge received a master's degree in computer graphics from Oregon State and a bachelor's degree in computer science from Harvey Mudd College. He has worked as a software developer for the Hatfield Marine Science Center and as a graduate research intern with IBM Research AI.
Chris Gamrat, assistant teaching professor, previously served as a senior instructional designer with the Penn State College of IST, where he collaborated with faculty to develop and revise courses in the information sciences and technology, cybersecurity analytics and operations, data sciences and master of professional studies programs. He also has developed, delivered and supported faculty teaching resources, such as the new instructor orientation, and served as an adjunct instructor for eight semesters. He holds three degrees from Penn State — a doctorate in learning, design, and technology; a master's of education in instructional systems; and a bachelor's degree in management information systems. Gamrat's research interests include inclusive teaching, professional learning and lifelong learning.
Taegyu Kim, assistant professor, joined the college in spring 2022 from Purdue University, where he was a postdoctoral researcher in the Department of Computer Science. His research interests are in systems security, robotic vehicle security and program analysis. Kim holds a doctorate in electrical and computer engineering from Purdue, a master's degree in electrical engineering from the Korea Advanced Institute of Science and Technology, and an undergraduate degree from Kwangwoon University in South Korea.
Aron Laszka, assistant professor, comes to Penn State from the University of Houston, where he was an assistant professor in the Department of Computer Science. His research interests revolve around artificial intelligence, cyber-physical systems and cybersecurity. His goal is to improve the efficiency and security of societal-scale cyber-physical systems, such as smart and connected communities, through applying AI and data science. To ensure a broader societal impact, Laszka works closely with community stakeholders, such as public transit agencies and researchers from other disciplines. Prior to the University of Houston, Laszka was a research assistant professor at Vanderbilt University and a postdoctoral scholar at the University of California, Berkeley. He previously worked as a visiting research scholar at the Penn State College of IST under Jens Grossklags. Laszka earned his doctorate in computer science from the Budapest University of Technology and Economics, from where he also earned master's and bachelor's degrees.
Cindy Lin, assistant professor, recently earned a doctoral degree from the School of Information at the University of Michigan, from where she also holds a graduate certificate in the Science, Technology, and Society (STS) program. Before she joined IST, she was a visiting postdoctoral fellow at Cornell Tech's Digital Life Initiative as well as a postdoctoral fellow at Cornell Atkinson Centre for Sustainability and Cornell's Department of Information Science. Lin's research draws from post-colonial and feminist STS, critical data studies, and social informatics to examine how the vision and practice of AI and data-driven futures shape environmental governance and social inequality in post-colonial regions.
Lu Lin, assistant professor, recently earned a doctorate in computer science from the University of Virginia. She also holds a master's and bachelor's degree in computer science from Beihang University. Lu has worked as a machine learning research intern with DiDi AI Lab, LinkedIn and Pinterest Labs. Her research interests broadly include AI, machine learning and data mining, with an emphasis on graph-structured data. She focuses on utilizing graph structure of data to advance machine learning in a trustworthy and responsible manner, concerning multiple aspects including robustness, fairness, explainability and efficiency. Her research papers have been published in high-impact machine learning, data mining and AI venues such as ICML, AISTATS, KDD, WWW, WSDM and TKDE.
Jhon Bueno-Vesga, associate teaching professor, recently earned a doctorate from the School of Information Science and Learning Technologies of the University of Missouri-Columbia. A Fulbright scholar, Bueno-Vesga's research interests lie in computer science education and human-computer interaction. He brings 10 years of industry experience in all aspects related to information systems, and he has designed and tested virtual reality learning games and simulations and worked in the area of usability and user experience. Bueno-Vesga has extensive experience teaching face-to-face undergraduate technology courses and has also designed and taught online courses for several universities, including the University of Missouri. He holds an MBA from Asia-Pacific International University, and a master's degree in information technology and a bachelor's degree in computer systems engineering from the Industrial University of Santander.
Urjaswala Vora, associate teaching professor, came to Penn State in spring 2022 from the Centre for Development of Advanced Computing, an Autonomous Premier Research and Development Society of the Government of India, where she served as associate director. In this role, she worked as a program manager for biometrics and Internet of Things, was a member of the research and development planning team of Internet of Everything and dependable and secure computing, and taught and mentored postgraduate students and professionals. Her research interests include complex systems, software architecture, software evolution, distributed computing, analysis and design modeling, and software engineering. She earned a doctorate in computer science and engineering from IIT Bombay and a bachelor's degree in computer science from the University of Pune.