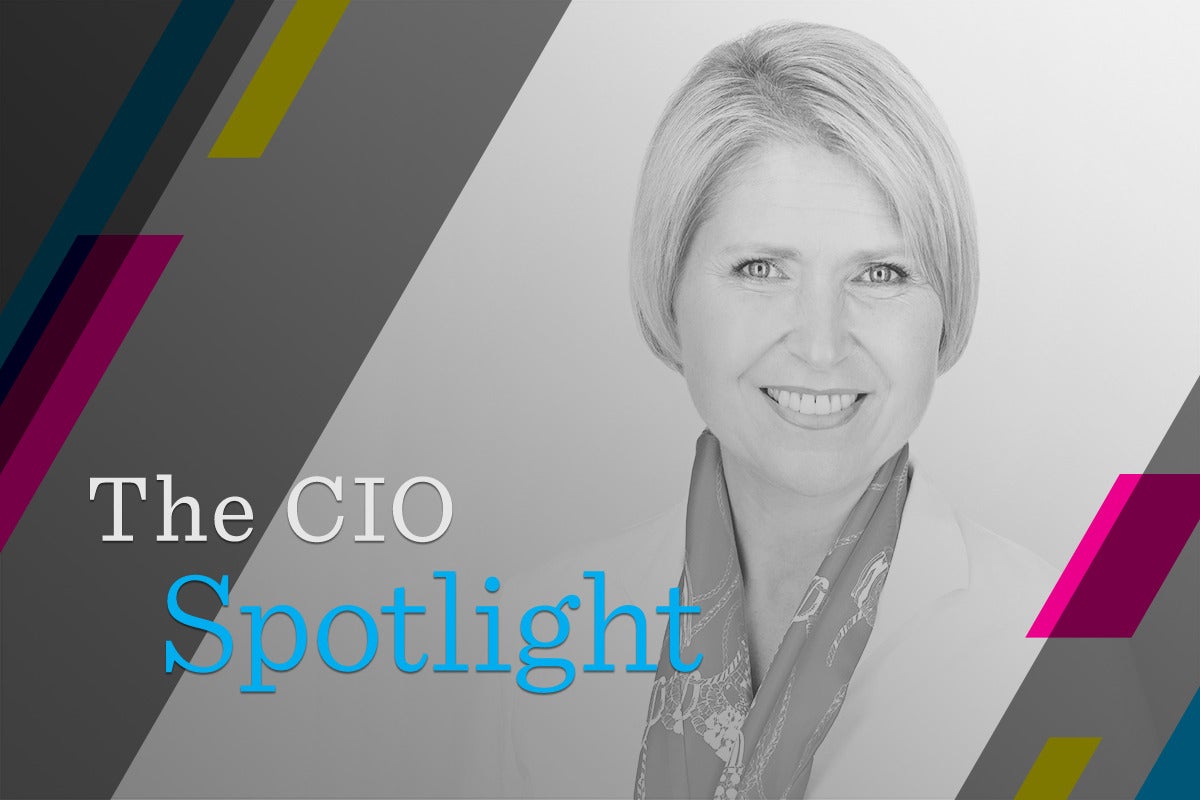 Name: Ilona Simpson
Company: Netskope
Job title: CIO EMEA
Date started current role: January 2022
Location: UK/ Germany
With over 20 years' experience leading technology strategies for major global organisations including Porsche, DHL, Aston Martin, innogy (EON) and adidas, Ilona Simpson is now tackling cybersecurity with Netskope, a global leader in cloud security. Simpson is an active member of a number of a number of technology and industry advisory boards, as well as volunteering as a mentor to early stage start-ups. She holds an MBA from IESE Business School, where she is a guest lecturer on technology and business. She was named one of four women to make waves in IoT by Silicon Republic in 2016. In 2021, Constellation Research named Simpson a member of the Business Transformation 150, an elite list that recognises the top global executives leading business transformation efforts in their organisations.
What was your first job? I began my career at Accenture. I'd been determined to make my start in consulting and so I was delighted when an opportunity arose to join the company as a graduate. The role offered the opportunity to widen the focus from pure change management and project management into technology, and so I found myself customising, debugging and migrating data in SAP ERP implementations, as well as acting as an expert advice to the customer's decision makers in specific areas of finance and controlling following a major acquisition. Having studied Psychology, it was a far cry from what I was used to but it awakened my passion for technology.
Did you always want to work in IT? After diving head first into tech at Accenture, I knew that the technology domain offered a broad range of opportunities for me to leave a mark, to make a difference. But being offered two different paths at Porsche, my next employer, I chose the role of Process Engineer over becoming an expert in SAP FI-CO. I loved, and still do, being part of a rapidly evolving domain that can (and often does!) act as a catalyst for transformation of processes, culture and business models of organisations and ecosystems. It's allowed me to work across numerous sectors and to shape technology as a discipline and as a function in alignment with the wider business agenda. I also get the opportunity to challenge the latter, and to prove that technology can go beyond being the enabler of business strategy; it can also drive new business models and growth. By working across the Automotive, Supply Chain, Utilities and Sportswear sectors, I've had the opportunity to experience first hand the value of adding perspectives on solving challenges of similar nature from different industries. I would always encourage boards and leadership teams in any industry to look to peers outside who are solving a similar challenge: fast growth, down turns, acquisitions, divestitures…
What was your education? Do you hold any certifications? What are they? After earning a Masters in Psychology, I spent a lot of time learning on the job, complemented by relevant industry certifications. So I became proficient in BPM (business process re-engineering), project management, program management and portfolio management. As I was keen to make a more strategic impact through my work, I turned to formal education and took on a Global Executive MBA (GEMBA) at the IESE Business school.
This was a life changing experience, and very intense two years, juggling work (promotion, moving to a new country) and education (a world leading business school has high standards and there aren't that many shortcuts when it comes to developing proficiency in disciplines of corporate finance, or marketing or competition and antitrust, and least of all leadership). My learning did not stop after GEMBA, but I became more focused on the subject. So I completed Lean Six Sigma blackbelt training; a Digital Mindset course for executives; I am a certified SCRUM Product Owner… Last year, I learned the basics of coding with shecodes.io, and earned a certification in Microsoft Azure. Now, at Netskope, I am learning the intricacies of cybersecurity.
Explain your career path. Did you take any detours? If so, discuss. My career path has taken a few turns over the years, but has always been rooted in technology. I was set on building a career as a strategy consultant because business strategy fascinated me, but my experiences at Accenture piqued my interest in tech and made the move into IT possible.
Thankfully, IT allowed me the freedom to work across a range of sectors meaning I could experience different organisations without having to relearn my trade. One thing that I always knew was that I wanted to make a meaningful and positive contribution to advancing society, and that's what led me to Netskope – where I can be part of shaping the next phase of the internet!
What business or technology initiatives will be most significant in driving IT investments in your organisation in the coming year? Netskope has been known for our uncompromised customer focus, superior technology, and the cutting edge infrastructure. We expand our "Proof of Value" capabilities, to help organisations understand how to improve digital user experience, simplify operations, and reduce TCO (total cost of ownership) of cloud transformation. We will be continuing to invest in the AI/ML capabilities of our platform to stay ahead of the curve technology wise; and we will be investing further in the data centres that make up our NewEdge infrastructure.
What are the CEO's top priorities for you in the coming year? How do you plan to support the business with IT? We are in the business of helping organisations increase their cyber resilience whilst improving digital user experience, so that is always my CEO's top priority. Being named a Gartner Leader in the SSE (Security Service Edge) Magic Quadrant is a recognition of our solutions' strength to date and is a great validation that we are on the right track. However we know that in such a fast evolving sector the work is never done. We'll be continuing to innovate relentless to better serve our customers and we will be building and expanding our industry-focused solutions.
Does the conventional CIO role include responsibilities it should not hold? Should the role have additional responsibilities it does not currently include? I don't see responsibilities that should not be part of CIO roles, rather I see how the role has been evolving.
For example, in many organisations, CIOs have been tasked with driving digital transformation. I see it as an opportunity to drive business-wide change, and to reshape collaboration between "business" and "IT". Offering digital platforms, be it data lakes, AI/ML or RPA that allow business to prove a concept, pivot and scale rapidly and securely is a big undertaking in itself. This should absolutely happen more.
I also see that, even in organisations where IT was seen as a "back office" function (sadly, this is still a reality in some companies), it now is the one formally accountable for "digital user experience" which is a great development.
And, last but not least, CIOs get increasingly involved in cyber resilience. I personally see opportunity to work closer with CISOs, and to jointly drive business-wide efforts related to "good digital citizenship" of employees, through education and increased awareness and vigilance.
Are you leading a digital transformation? If so, does it emphasise customer experience and revenue growth or operational efficiency? If both, how do you balance the two? I am cautious generalising digital transformation as it can mean many things: from digital business models, to digital augmentation of products (think IoT), to digital engagement with customers, to redesigning of internal decision making, structures and processes.
One aspect I would challenge anyone on is that there are trade-offs between customer experience, revenue growth and operational efficiency. By its very nature, improved customer experience is meant to attract revenue (where applicable), and I do not believe in a compromise with operational efficiency by design.
I see first-hand that security transformation does improve user (stakeholder) experience, does drive operational efficiencies. And it does allow the business to move faster, and be more agile responding to market, customer and operational needs.
Describe the maturity of your digital business. For example, do you have KPIs to quantify the value of IT? We are a digital player who uses their own technology for cybersecurity and market leading SaaS solutions to run the business. Truly impressive to someone like me who comes from traditional industries.
We indeed have the digital maturity needed to demonstrate robust methodology for business cases (I personally prefer calling those "investment cases"), quantifying (i) financial side as well as (ii) operational improvements / simplification, as well as (iii) user satisfaction / digital user experience. We actively help IT and security teams of our clients to develop those, and to get organisational buy-in for security transformation.
What does good culture fit look like in your organisation? How do you cultivate it? Netskope has a strong set of values, and we uncompromisingly follow them. Collaborative and transparent; no politics or bureaucracy; customers are #1 and we have their back. Those are the ones that I personally found reflected my own values. We then combine that with a determination to make things happen; dream big and be innovative; and have fun. Get that right and the whole package is unbeatable, isn't it?
As with every culture, this only works if it is lived by the people – and it starts with leadership. Humble, authentic yet ambitious and dynamic, those are the values I try to cultivate and demonstrate as a leader.
What roles or skills are you finding (or anticipate to be) the most difficult to fill? Over decades, great IT and technology functions stood out when they excelled in their respective technology disciplines. Then there was a need to "translate" between business language and technology language. Now, the skills we need are business-savvy and collaboratively-minded technologists. Can Networking experts team up with Security and with Controlling colleagues to get CIOs and CISOs (and ultimately the company's Boards) onboard to drive step change improvements in cyber resilience? Those are the skills that really make the difference.
What's the best career advice you ever received? It's hard to pick just one piece of advice to single out, but if I was to then it would be the following: The CEO of a company I once worked for told me that success doesn't come from how well you perform a task alone, but from how you benefit an organisation as a whole. Your wins should empower everyone around you; from your subordinates to the board.
Do you have a succession plan? If so, discuss the importance of and challenges with training up high-performing staff. I would say that for technology companies in the cybersecurity space, growth challenges do outweigh the succession agenda. And taking a broader look at the talent movement within the cybersecurity domain, I see Netskope attracting great experts and leaders from direct competitors, as well as from other industries. We have a unique culture, and are on an impressive growth trajectory.
What advice would you give to aspiring IT leaders? I would emphasise the importance of clarity of purpose and authenticity. Robust roadmaps, and ambitious goals only get people behind them if they are lived by the leadership, and if there is something bigger behind them than achieving the next milestone, or delivering the next commercial target.
What has been your greatest career achievement? I have worked for some really incredible companies, but as I think about what we are working towards at Netskope I know my greatest achievements are still ahead of me. Looking back, though, one of my proudest achievements to date was as CIO of Aston Martin when we delivered the company's 'Second Century Plan'. It was an amazing experience to work alongside a new CEO to bring one of Aston Martin's most ambitious business plans ever to life.
Looking back with 20:20 hindsight, what would you have done differently? Lots! Especially at the beginning of my career. I would have been bolder and more assertive. I would not feel awkward in salary negotiation conversations. I would get involved in formalised networks and seek out mentors at a much younger age than I actually did.
But in a bigger scheme of things… Occasionally, I do have the "what if" moments. One thing I'd be curious to experience is what my path would have looked like if at the very beginning of my professional career, the invite to McKinsey assessment centre for graduates would have arrived before the offer at Accenture…
What are you reading now? I am currently reading three books which I all highly recommend: ACCELERATE. Building and scaling high performing technology organizations by Nicole Forsgren et al; RADICAL FOCUS. Achieving your most important goals with Objectives and Key Results by Christina Wodtke, and The power of the powerless by Vaclav Havel.
Most people don't know that I… As a person, I am an open book, so there aren't really any secrets but most people probably wouldn't know that I used to be good at fencing as a teenager, or that I was a member of a shooting club whilst at Porsche.
In my spare time, I like to…Go sailing with the family, or just hang around with them. I love cooking and eating in
Ask me to do anything but… To be an IT helpdesk at home or clear up after my cooking.