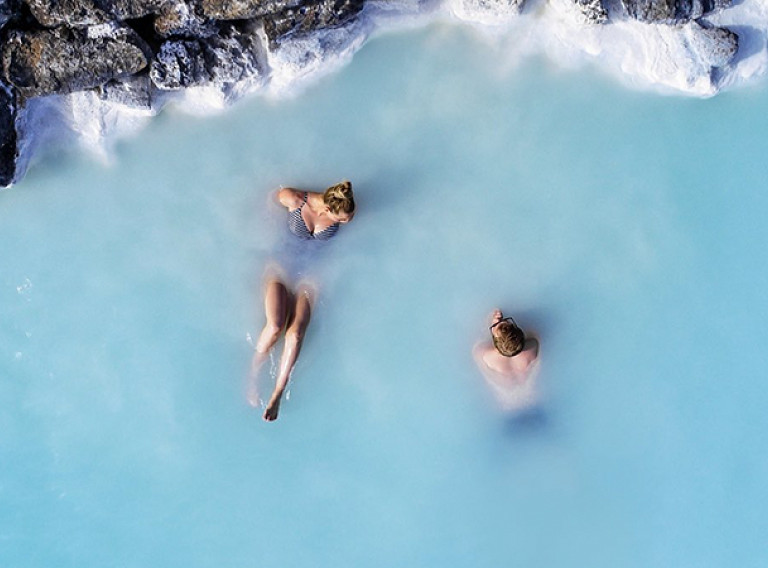 Employing the powerful benefits of natural sources has gained increasing popularity over the years, with the bioactive cosmetics ingredient market projected to reach $2,215.96 million by 2028. The team behind the Blue Lagoon spa and product line in Iceland have been tapping into this valuable resource for three decades.
In 1976, the Blue Lagoon took shape in the Svartsengi Resource Park on Iceland's Reykjanes Peninsula, when geothermal seawater from underground volcanic aquifers (2,000 meters below the earth's surface to be exact) was channeled to the surface. With local bathers and visiting tourists reporting vast skin improvements, scientists began studying the water's properties in 1987, including Bárður Sigurðsson, who later became the chairman of the Blue Lagoon scientific committee. They found exceptionally high levels of silica in the geothermal seater, with immense benefits to healing psoriasis, strengthening the skin barrier, preventing collagen breakdown, and promoting collagen synthesis.
In 1992, physician Grímur Sæmundsen founded Blue Lagoon Ltd. after intensively studying the water's benefits for not just skincare, but also wellness and medical treatments. He onboarded Ása Brynjólfsdóttir, who remains the Director of R&D for the company to this day and led the development of the Blue Lagoon skincare line, which launched after two years of development in 1995. A year prior, the Blue Lagoon medical clinic had opened up, offering natural psoriasis treatments. "These 30 years of scientific journey have been amazing," Brynjólfsdóttir tells BeautyMatter. "Step by step we have, through our research, built up a deeper knowledge of the Blue Lagoon Water, its healing power, and bioactive ingredients, which have been the driving force in our innovation and sustainable development."
Today, the company offers three vegan product lines: BL+ luxury skincare, Derma bodycare for sensitive skin, and Spa offerings to recreate professional treatments at home. While all make use of Blue Lagoon seawater, the BL+ additionally targets anti-aging factors such as wrinkles, weakened skin barrier, dull texture, dehydration, and a lack of radiance and elasticity. "Our philosophy is promoting a minimalistic regimen of highly effective, clean, and clinically proven products that can transform the skin. With BL+ we offer the future of skincare, focusing on healthy skin and wellbeing for people and the planet," she explains.