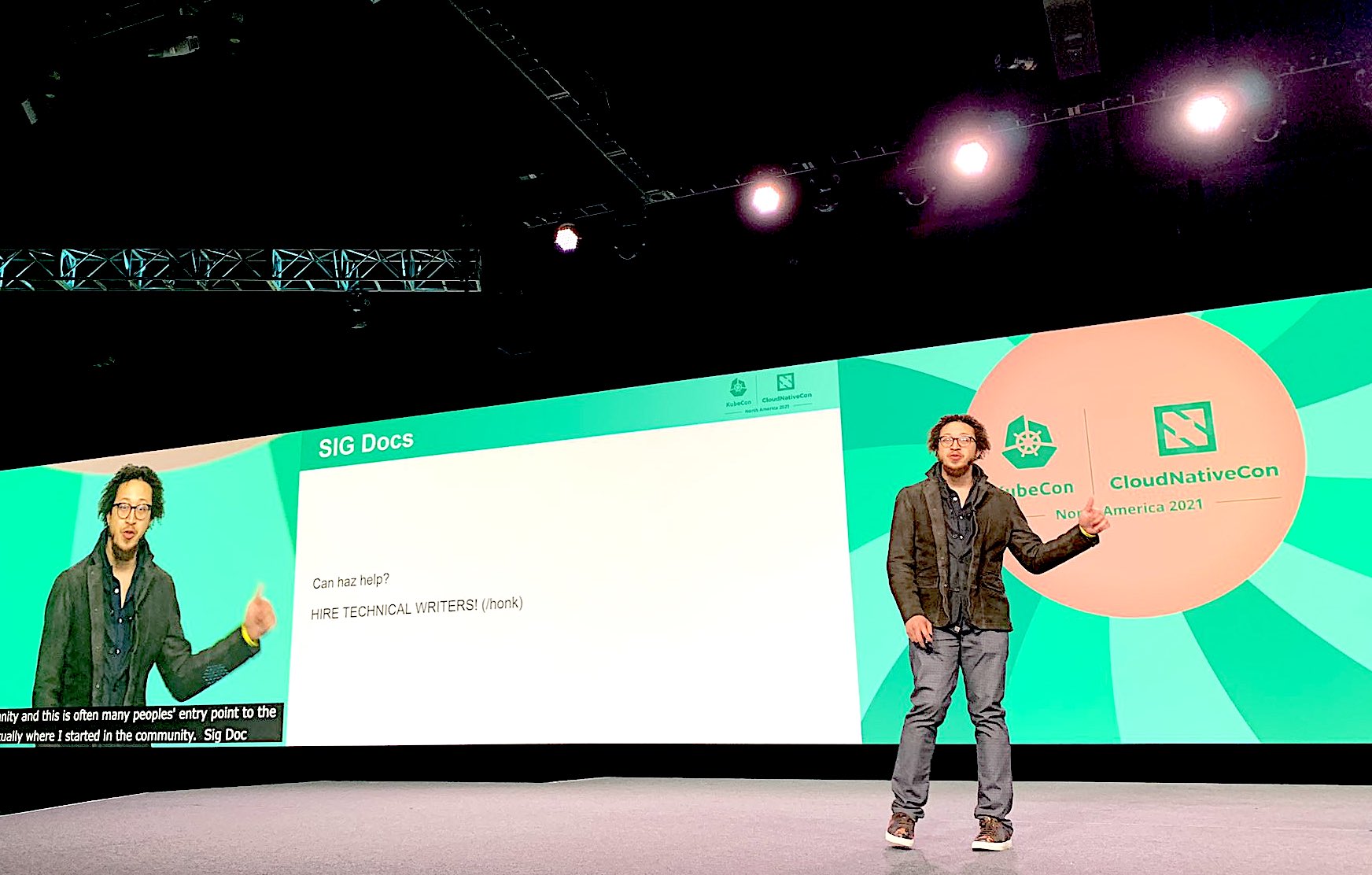 The Cloud Native Computing Foundation's flagship KubeCon/CloudNativeCon conference returned triumphantly to in-person mode this week in Los Angeles – albeit with the obligatory virtual component. But it was the opportunity to return to live human interactions without the Zoom "Brady Bunch" boxes that was unquestionably the highlight of the show.
The numbers in attendance at the Los Angeles Convention Center were markedly lower than previous KubeCons, and the mix was heavily skewed toward vendors. Nevertheless, the general feeling was that we had to get past the first return-to-normal conference in order to move on to upcoming ones in 2022.
In spite of these challenges, KubeCon retains its position as the central gathering point for the cloud-native computing community, reinforcing the CNCF's leadership as cloud-native computing matures.
Many dimensions of maturity
Maturity, in fact, was the common theme across many keynotes, presentations, and informal conversations – maturity of the software to be sure, but also organizational and process maturity as well.
This community is quite aware that it is actively building mission-critical enterprise infrastructure software. Open source has supported enterprises for decades now, and cloud-native computing is raising the bar for what open source can and should be able to achieve for such organizations.
Even more important than the maturity of the software itself, however, is the organizational maturity on display among CNCF participants and the larger community.
The most noticeable indicator of this maturity is the fact that the CNCF is a largely woman-led organization. I'm not saying women are more mature than men – that would be overly simplistic. Rather, the CNCF's preponderance of women in both leadership and contributor roles highlights something that is refreshingly absent: "type A" males who dominate conversations and fall into "boys' club" patterns of behavior.
There is simply no room for such nonsense at KubeCon or among the broader open source community it represents. The conference's strict conduct policy is one indicator of this organizational maturity – but it is the ability for conference-goers of all genders to leave such issues behind and collaborate on a level, harassment-free playing field that supports the collaborative environment so essential for such complex open source efforts.
The importance of process maturity
Building out the Kubernetes open source ecosystem is a gargantuan effort – or more precisely, a gargantuan number of challenging projects. Putting them all together in a way that delivers software adequate to meet the needs of today's enterprises requires a high level of process maturity.
One example centers on supply chain maturity. Each line of code originates from the mind of one of thousands of developers, then goes through a number of technical and organizational steps before the project of which it is a part is ready for use.
Ensuring that such supply chains follow modern best practices for security, management and delivery is essential to the success of the overall effort.
At KubeCon, it was evident that project teams were operating at a high level of such process maturity – and the convention gave teams the opportunity to share such best practices with each other, raising expectations for everyone.
Completing the Kubernetes stack
While it takes much of the limelight, Kubernetes itself is but one of dozens of projects that make up the cloud-native open source ecosystem. The sheer number of separate projects can be daunting, especially to people new to cloud-native computing.
The obvious questions people ask: What pieces do they need to assemble to build complete Kubernetes puzzle? What constitutes a working, enterprise-class Kubernetes stack?
At KubeCon, the answer to this question was finally coming into focus. There are still open questions – many projects are still immature, and there are use cases like edge computing that still have many question marks – but for many enterprises, the cloud-native infrastructure checklist is nearing completion.
The efforts of commercial vendors, in fact, are driving the maturity of the Kubernetes stack. Open source can (and should) only go so far. Enterprises are willing to pay for enterprise-class capabilities, and many vendors are stepping up to the plate.
Six KubeCon exhibitors exemplifying cloud native maturity
Of the 200-plus vendors exhibiting at KubeCon, the following vendors stand out because of the level of maturity they bring to enterprise cloud-native computing as companies scale out their mission-critical Kubernetes-based infrastructure.
D2IQ offers an independent Kubernetes platform that includes multi-cluster management, advanced data services, end-to-end machine learning and built-in GitOps. This vendor cut its teeth as Mesosphere, but it's now fully committed to maturing its Kubernetes stack.
Kaloom provides a fully programmable and automated cloud-native networking solution for edge data centers. This "Cloud Edge Fabric" abstracts different networking implementations across on-premises, edge and public cloud, giving customers a programmable unified edge management plane. Kaloom is currently targeting telcos for now, but the writing is on the wall: Enterprises will be the primary consumers of cloud-native edge computing in the next few years.
Kong combines full-lifecycle application programming interface management for governing "north-south" connectivity with a service mesh that handles "east-west" (microservice-to-microservice) interactions into a comprehensive platform for policy-driven Kubernetes connectivity. Cloud-native connectivity abstracts all types of endpoints, thus supporting new approaches to messaging, service workflows and integration.
Temporal provides a microservice orchestration platform that provides the infrastructure necessary to support durable automated workflows, for example financial payment workflows. This platform relieves developers of the plumbing work necessary to implement such workflows so that they can focus on coding business logic. I consider Temporal's platform to be "pro-code" – offering the abstraction-based simplicity of low-code platforms but for hand-coding developers.
Tetrate offers application-aware networking for multicluster, multicloud and hybrid cloud environments. It provides abstracted, policy-driven connectivity among hybrid IT endpoints – microservices as well as APIs and other integration endpoints across multicluster, multicloud and hybrid cloud, extending cloud-native integration to the enterprise IT and cloud software-as-a-service landscapes. Tetrate empowers networking professionals to support the abstracted connectivity that cloud-native computing requires.
TriggerMesh offers a cloud-native, event-driven integration platform that supports event routing and stream filtering, suitable for both "small" data real-time use cases like connecting to third-party SaaS apps, as well as big data applications that typically involve AI training and inferencing. Triggermesh's solution goes beyond connectivity to a full-blown integration platform by establishing and managing the data workflows among endpoints.
Where we need further maturation
As the six vendors above exemplify, mature cloud-native infrastructure is increasingly available up and down the now-crystallizing Kubernetes stack.
More work remains to be done, however. Only a relative handful of CNCF projects have graduated, reflecting the highest level of completeness for such efforts. These projects take time, and the shortage of qualified people is the limiting factor for many projects within the CNCF.
Enterprise use cases are also in a state of rapid change, in particular, artificial intelligence and edge computing. Running AI workloads on cloud-native infrastructure is an obvious use of the technology, and will continue to mature as AI techniques become increasingly sophisticated.
Edge computing is the other use case – or more accurately, family of use cases – that are only now beginning to mature. As the 5G buildout progresses, new possibilities for innovation arise, both for enterprises and for telcos. All of these as yet undefined business models will run on cloud-native infrastructure.
Jason Bloomberg is founder and president of Intellyx, which advises business leaders and technology vendors on their digital transformation strategies. He wrote this article for SiliconANGLE. At the time of writing, none of the vendors mentioned in this article is an Intellyx customer.
---
Show your support for our mission by joining our Cube Club and Cube Event Community of experts. Join the community that includes Amazon Web Services and Amazon.com CEO Andy Jassy, Dell Technologies founder and CEO Michael Dell, Intel CEO Pat Gelsinger and many more luminaries and experts.