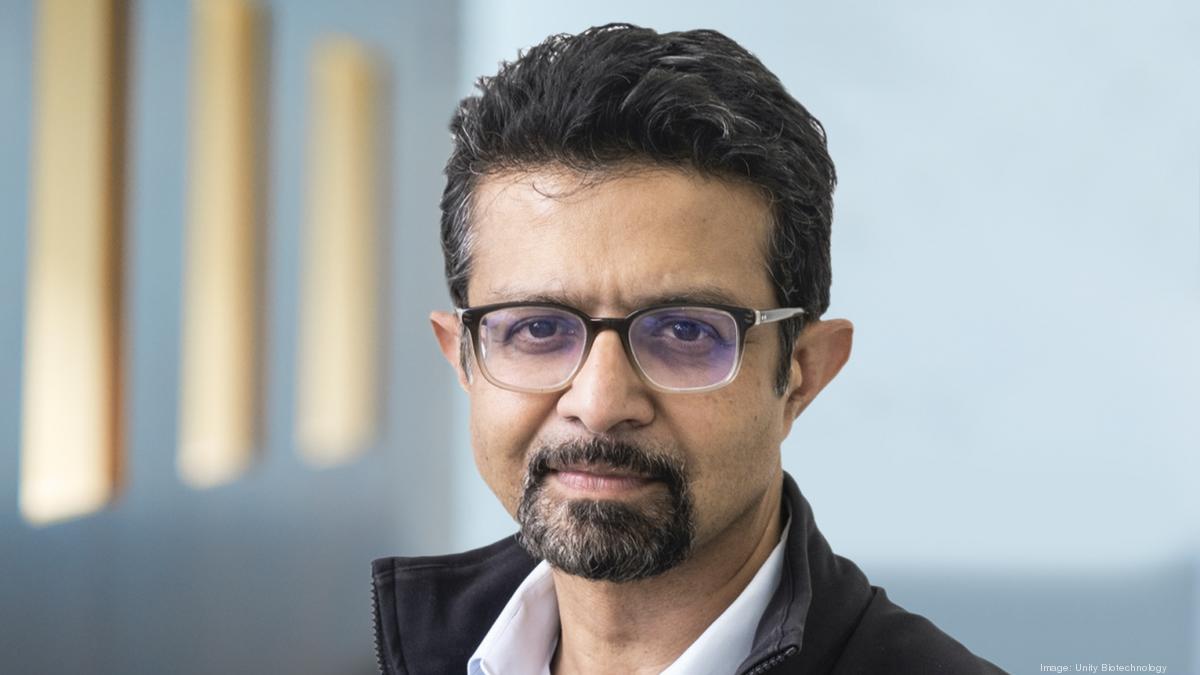 As new companies continue to pop into the anti-aging field, a pioneer is revising its strategy.
Eleven-year-old Unity Biotechnology Inc. (NASDAQ: UBX) will cut about half of its workforce by the middle of the year and focus on a drug in two mid-stage clinical trials in blinding eye diseases. The job cuts will reduce the South San Francisco company's number of full-time employees to 34 and extend the company's cash into first-quarter 2023, after it gets two data back from its two ongoing eye disease studies.
As the baby boom generation ages, companies promising to make old age healthier and less physically painful have sprung up over the past decade, especially in the Bay Area. The field got its big lift as Google invested in Calico Labs, a South San Francisco company helmed by onetime Genentech Inc. CEO Art Levinson.
More recently, Amazon.com Inc. founder Jeff Bezos and early Facebook investor Yuri Milner have backed Altos Labs, which is building out a Redwood City hub to reverse disease at the cellular level.
One of Unity's earliest funders, ARCH Venture Partners, also invested in Altos Labs.
In concentrating on wet age-related macular degeneration and diabetic macular edema, Unity is staying true to its original science, spun out of research from a team that included Judy Campisi, a senior scientist at Lawrence Berkeley National Laboratory and a professor at the Buck Institute for Research on Aging in Novato.
Campisi, Mayo Clinic professor Jan van Deursen and University of Florida professor Dr. Daohong Zhou focused their research on "senescence," where dormant or dying cells release chemicals that lead to inflammation involved in some aging-related diseases. With the help of serial entrepreneur Nataniel "Ned" David, Unity's scientific founders initially focused on a drug that would clear out senescent cells for patients with moderate to severe osteoarthritis in the knee.
But UBX-0101, as the drug was called, in summer 2020 failed a mid-stage clinic trial that looked at knee pain, and David left the company by the end of the year.
Unity isn't giving up. UBX-1325 stays with the idea of cellular senescence, aiming to block a protein that senescent cells appear to rely on for survival. The small molecule drug is in a Phase IIa safety and efficacy in diabetic macular edema, a potentially blinding eye disease, and a Phase II study in wet age-related macular degeneration, where uncontrolled growth of blood vessels behind the eye block vision.
Data from those studies is expected by the end of the year, while the company said results from a third study of UBX-1325 in wet AMD patients from that program's early-stage clinical trial will produce data in the first half of this year.
"It was a difficult but prudent decision to align our resources around our ophthalmology programs and I believe this sharpened focus will propel us forward to key milestones, including Phase II data inflection points this year," said Unity CEO Anirvan Ghosh, the onetime head of research and early development at Biogen Inc. who joined Unity in March 2020.
At the same time, Unity is shedding some of the staff that got the company to this point. Its restructuring program will cost about $1.8 million this year, mainly due to one-time employee benefits and severance charges.
The company didn't estimate how much cash it had on hand, but it previously said it had cash, equivalents and marketable securities as of Sept. 30 of $88.5 million and an accumulated deficit of $389.3 million.