Since wrinkles that come with aging skin are inevitable, the ways many of us do our facial makeup might have to change or adapt as we age. One of the most important steps in any great makeup look is a foundation that matches your skin tone and helps cover blemishes and dark circles if desired. With that said, finding the right product can feel difficult or overwhelming, so look no further! We checked in with professional makeup artist Mary Winkenwerder for 3 common errors that can be easily fixed for a more radiant and youthful look.
25 Mother's Day Gifts Our Editors Would Buy For Their Own Moms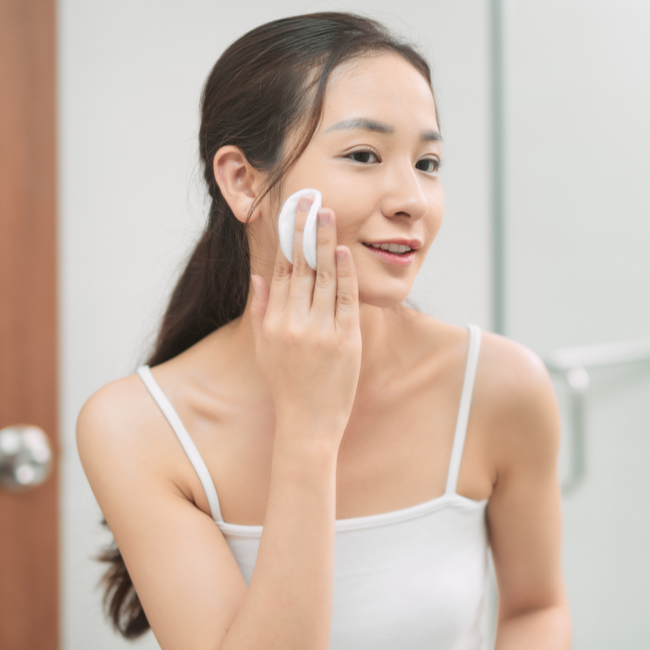 Shutterstock
Mistake #1: Failing To Cleanse & Exfoliate Skin Before Applying Foundation
An oily, clogged surface is only going to look worse after you smear foundation onto it, Winkenwerder explains. The key to a clean, ssmooth-looking makeup look is washing, cleansing and exfoliationg your face before applying anything else, she says. "Skin that is not clean and not exfoliated creates an uneven surface texture," Winkenwerder notes. "Applying foundation makeup to an unclean, uneven skin texture creates a blotchy finish." To avoid this (and looking any older), Winkenwerder says to always "cleanse and exfoliate your skin before applying foundation for blotchy-free applications."
Shutterstock
#2: Applying Foundation In Uneven Sections
The second common aging foundation mistake, according to Winkenwerder, is failing to apply foundation evenly. "If a color-matched foundation is applied unevenly to the skin, there is a noticeable texture line from the applied makeup on the skin," she says. "Uneven foundation applications make the skin look dry in places and unhealthy," she continues. To fix this, she advises using a sponge or brush to blend the foundation into the skin's surface evenly.
Shutterstock
#3: Forgetting To Clean Your Makeup Brushes
Dirty makeup brushes will only make your skin look worse, and not to mention much more prone to breakouts later on. "Cleaning your foundation brush ensures even and clean applications," Winkenwerder stresses. "Using a clean sponge to apply foundation delivers even foundation applications and clean distribution." Many people, she says, apply foundation with their fingers without washing their hands first. "Everything that is on your dirty fingers when applying foundation becomes dirty on your face," she says. To avoid this mistake, it's important to wash your brush regularly to ensure healthy hygiene practices. "Wash your hands before applying foundation with your fingers and use a clean sponge with every foundation application," Winkenwerder concludes.