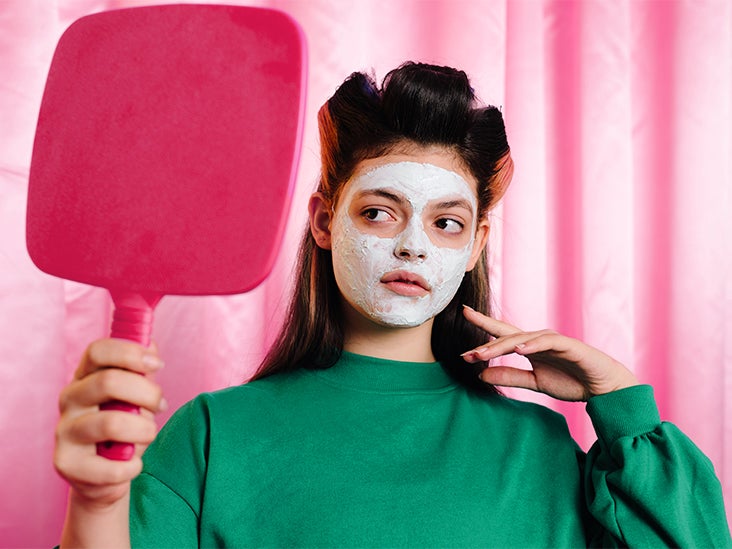 From expression lines to age spots here are ingredients that *really* work.
1. Sunscreen
Yep, we're starting with the obvious here. But sunscreen = one of the most powerful tools we have against wrinkles.
Research suggests that sun exposure causes around 80 percent of facial aging. That UV damage can look like this:
So, whether you wanna zhuzh up your sun protection or build an anti-wrinkle skin care routine from scratch, look for products with added broad-spectrum SPF. Or even better, apply sunscreen after your skin care routine.
2. Niacinamide
This common anti-aging skin care ingredient is actually a form of vitamin B3. Here's why it's a skin-loving superstar:
It'll dial down the appearance of wrinkles. In a 2021 research review, researchers found that applying a 4–5 percent niacinamide topical can boost skin elasticity while reducing the appearance of wrinkles.
It'll tame hyperpigmentation. The same review found that using 4 percent niacinamide can fade dark spots, a classic sign of UV-related skin aging.
It'll boost hydration. Science says niacinamide can fortify your skin barrier, locking in fine line-plumping hydration.
It's easy to find anti-aging serums and creams that contain niacinamide. Look for 5 percent formulations for maximum results, but beware — this stuff can cause redness and irritation at first. Folks with sensitive skin should start with a lower concentration of niacinamide.
3. Retinol
Ah, the holy grail of anti-aging ingredients!
Retinol, a vitamin A derivative, is known to rev up collagen production *and* accelerate cell turnover. Basically, it tightens skin while clearing out dead skin cells that lead to rough, uneven skin texture. Those are major #wins against fine lines.
Of course, skin care junkies know that retinol can be too potent at times. Your skin might feel tender and sensitive as it adjusts to retinol's anti-aging effects. Start with a low retinol concentration, and don't hesitate to ask a dermatologist about any concerns.
You can find retinol in
Heads up: You might need to use retinol for a few months before noticing a difference in your skin. Patience, young grasshopper.
4. Hyaluronic acid
If you follow any beauty gurus on the 'gram, you've heard the buzz about hyaluronic acid (HA).
Think of this dewy molecule as your skin's naturally occurring lube. Water binds to hyaluronic acid, so coating your face helps invite and lock in moisture. Basically, this gives you plump, hydrated skin.
On top of being ultra-hydrating, hyaluronic acid has been found to reduce the appearance of fine lines and wrinkles.
Oodles of anti-aging products contain hyaluronic acid like:
Although HA is one of the gentlest anti-aging ingredients, you could still have a reaction. Watch out for classic allergic side effects like redness and itching.
5. Glycolic acid
Goodbye, gritty face scrub, hello chemical exfoliant.
A youthful complexion takes more than just wrinkle prevention. Getting rid of dead skin cells resurfaces the skin to create a smoother-than-a-baby's-bum glow. And that's where glycolic acid (GA) shines.
You can find glycolic acid in skin care like:
Research shows that glycolic acid and other alpha-hydroxy acids (AHAs) can boost skin elasticity while diminishing wrinkles and fine lines.
But the same research also suggests that too much glycolic acid leads to skin irritation and hypersensitivity to damaging UV rays.
Your best bet is to ask a dermatologist to help you find the right glycolic acid concentration for your goals.
6. Ferulic acid
Some of the best anti-aging serums on the market include ferulic acid.
Research suggests this ingredient is:
Remember how UV rays are the worst for aging skin? Ferulic acid is a pro at protecting your face from that damage.
You'll often find ferulic acid in schmancy vitamin C serums. That's because it supports vitamin C's ​​UV protection powers. All part and parcel of the good fight against wrinkles.
7. Vitamin C
Speaking of vitamin C, this little OJ superstar also works magic on your skin (without the juice, of course).
Here's why Vitamin C is so clutch:
Boosts collagen. Topical vitamin C application is known to encourage collagen production, which could help combat saggy, wrinkly skin.
Combats age spots. Science says applying vitamin C can also decrease signs of hyperpigmentation (aka, freckles and age spots).
Protects against UV damage. As an antioxidant, Vitamin C also fights hard against UV rays and the wrinkles they cause.
Sounds swell, right? You can find vitamin C in oodles of serums and moisturizers. Look for product labels that say L-ascorbic acid (vitamin C's most shelf-stable form). Pair it with ferulic acid to punch up the pro-aging impact.
8. Vitamin E
There's a reason vitamin E might sound super basic — it's been a skin care mainstay for eons. And that's just because it works.
Vitamin E on your skin can:
Absorb UV rays. Yes, really! Research suggests that this little vitamin can help prevent wrinkle-causing sun damage.
Slows skin aging. It's all that free radical-scavenging, antioxidant activity, y'all!
Soothe inflammation and dryness. Research has found that vitamin E dials down redness and dry skin caused by external irritants. That means vitamin E could be an excellent balm for thin, dry, aging skin.
More research is needed to pinpoint *exactly* how topical vitamin E can combat fine lines and wrinkles. We know for sure that it's ultra-gentle and soothing on sensitive, aging skin.
To give it a whirl, apply vitamin E oil directly or pick up a vitamin E-infused cream or wrinkle serum.
9. Peptides
Peptides are amino acids that tell your body to make collagen. That's important because collagen is the stuff that keeps skin smooth and taut.
In one study of 22 women, applying peptide cream improved wrinkle appearance in as little as 2 weeks. Of course, more studies are needed to prove this result.
We know that peptides are a common ingredient in wrinkle creams, partially because it tends to turbocharge the effect of other anti-aging ingredients. You can also find peptides in serums.
Let's keep it 100: Peptides can be hella expensive. And the benefits of slathering peptides on your skin aren't as airtight as applying, say, niacinamide. This anti-wrinkle ingredient is best used in conjunction with others on the list.
10. Methyl Estraodiolpropanoate (MEP)
Ever had a bad PMS breakout? Then you know precisely how much hormones influence your skin. That's the idea behind using Methyl Estraodiolpropanoate, aka MEP, for hormone-related wrinkles.
Science says that as estrogen drops with age, so does hydration. And dry, aging skin is the foundation for wrinkles.
Enter MEP! Research is ongoing, but one small 2019 study suggests that MEP can resurrect sleepy estrogen receptors, leading to plumper, smoother, younger-looking skin.
This new kid on the anti-aging skin care block still needs more research, but the limited products infused with MEP *might* end up changing the game.